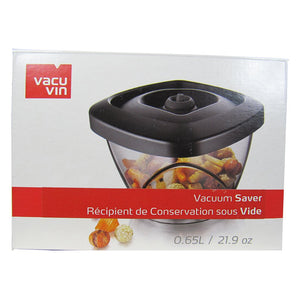 Vacu Vin - Vacuum Saver Storage Container
Regular price $14.99 $14.99 Sale
Info: 0.65 L (21.9 oz ) Capacity; No Pump Included. Only 1 Remaining.
Many of our foods come vacuum packed, but as soon as we open the packages and they get exposed to air, they're never quite the same, even if we try to roll up or even clip their bags or inner linings: they get limp, soggy, or stale, or they lose their flavour or aroma; or they change their colour; or they get all stuck together. Vacu Vin's line of vacuum sealing containers can change all that.
Product Notes:
These dishwasher safe, hard plastic containers have a special lid which works with a pump (which comes with some models, but not this one; the company also sells a slightly larger pump separately to work with all these units) which draws out all the air, to lock the humidity out and the original taste and aroma in. They also have a special gray tint to help protect the contents from the harmful effects of light. This 0.65 L (21.9 oz) capacity one can hold items which came in smaller packages, like tea (bags or loose), or candies, cashews, or nuts.
- Dishwasher safe
- Use in conjunction with the vacuum pump (not included)
- Preserves taste and crispness
- Suitable for "air sensitive" foods, such as biscuits, crisps, nuts, cereals and coffee or tea
- Tinted container protects tea and coffee from harmful effects of light.
Liquid error (sections/product-template line 203): Could not find asset snippets/spreadr-reviews.liquid