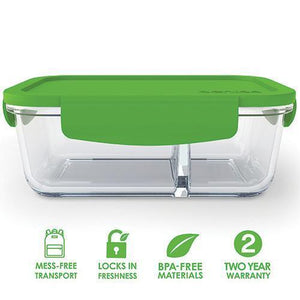 Bentgo Glass 2 Compartment Container Green BGO-GLSM-GRN
Regular price $19.99 $16.98 Sale
Enjoy snacks or small meals on-the-go with Bentgo Glass Snack. This perfect complement to the Bentgo Glass Lunchbox has 2 leak-proof compartments making it ideal for fruit, veggies, leftovers, dipping sauces and more. Our premium glass is a long-lasting and healthy alternative to other materials.
Leak-Proof Easy-Snap Lid
Colorful lid features airtight seal and secure locking clips for mess-free transport and fresher food storage

Odor & Stain Resistant
Unlike plastic storage containers, Bentgo Glass Snack is made with non-porous glass that won't absorb stains or odors.

Food-Grade Safe & Eco-Friendly Materials
Bentgo Glass Snack is made with quality food-grade materials that contain no BPA, PVC, phthalates, lead, or vinyl.
Product Specifications
Outer Container: 6.4" x 4.5" x 2.3" 
Large Compartment: 3.8" x 3.2" | 1.1 cups | 8.8 oz | 260mL
Smaller Compartment: 3.8" x 2" | .7 cups | 5.4 oz | 160mL
Total Volume: 1.8 cups | 14.2 oz | 420mL
FDA Approved
Liquid error (sections/product-template line 203): Could not find asset snippets/spreadr-reviews.liquid