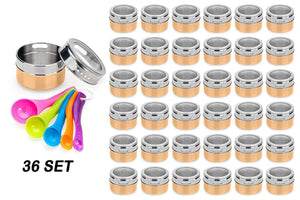 Stainless Steel Magnetic Spice Jars - Bonus Measuring Spoon Set - Airtight Kitchen Storage Containers - Stack on Fridge to Save Counter & Cupboard Space - 36pc Organizers in Gold
Regular price $70.47 $49.98 Sale
Brand: Nellam
Color: 36PC Set - Gold
Features:
AIR TIGHT EASILY REMOVABLE LIDS: these stainless steel kitchen storage containers keep your herbs, teas and spices sealed and dry, while being easy to open; locking in freshness for seasoning and cooking.
STRONG MAGNETS THAT STAY UP: Nellam magnetic spice jars can stack on your fridge and won't fall off; clearing space in your cabinets and countertops for easier organizing of other items.
NO RUST STAINLESS STEEL: means you can wash without harmful rust appearing and is guaranteed to keep your finer spice powder safe from clogging up the lid; so you can always open them easily.
SPRINKLE OR POUR, YOU CHOOSE: Nellam magnetic spice tins come with shaker holes to aid sprinkling or you can open the jar lid and use as large dispenser.
100% SATISFACTION GUARANTEE: Nellam is a USA family-owned business and your satisfaction is our priority; we provide 30 day no questions money back guarantee and 12 months manufacturer's warranty.
Publisher: Nellam
Details: Need a convenient way to organize & display your spices? Nellam magnetic storage jars clear space by
sticking to a fridge or metal shelf. Click ADD TO CART now to free up your countertops & cupboards.

WHY YOU'LL LOVE OUR JARS...

They're air tight - your herbs & spices stay fresh
Unique easy twist top - helps you sprinkle evenly
They clear up valuable workspace & cabinet storage
They look great & colorful stacked to a fridge or freezer
Premium quality materials - won't scratch or dent easily
Stainless-steel won't rust - so your contents stay safe to use
Strong magnets keep your herbs & spices where you put them
The Nellam 30-day no-questions asked money back guarantee
HOW WELL DO THEY STICK TO A FRIDGE?
Our magnetic spice tins are very strong. Fix them to the side of the fridge or freezer and whenever you
or close it, the spice jars will stay in place.
ARE THESE REALLY AIRTIGHT?
Yes, at Nellam we know that if air gets inside our kitchen containers then moisture can also access them.
Any damp can cause your spices to clog up the lids, which will make them very difficult to use. We
guarantee our magnetic spice jars will stay dry inside.
NELLAM CARES ABOUT YOU...
Buy with confidence as we are here for you should you have questions before or after the sale.
We
provide a 30-day, 100% Satisfaction Guaranteed returns policy & 12-months warranty.
Click
ADD TO CART
now to free up your countertops & cupboards with these super magnetic spice jars.
UPC: 785123446200
EAN: 785123446200
Package Dimensions: 9.0 x 8.0 x 8.0 inches
Liquid error (sections/product-template line 203): Could not find asset snippets/spreadr-reviews.liquid