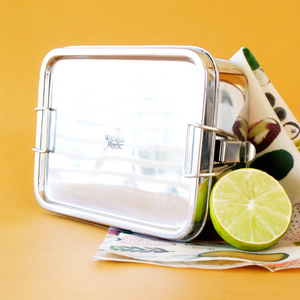 Stainless steel rectangular food container
Regular price $28.95 Sale
Stainless steel food containers are perfect for lunches, leftovers, snacks and eating on the go. These high quality food storage containers are air tight and water tight so you don't have to worry about spills.  
They are also great for storing and transporting sandwiches, wraps, salads or soups. The base container can heated in a toaster oven or on the stove - but use a pot holder because it will be hot to the touch! Please note that the lid should not be put in the oven or used on the stove. 
It also works well for freezer storage.  
You can use a non-permanent marker to write on the container. This is handy for specifying contents and storage date. The marker writings wash off easily with water and friction. 
Looking for a for soups? Check out our other storage containers.
Use and care
Use as described. The container is dishwasher safe, but hand wash the silicone seal in warm soapy water. The base is safe for use in an oven, toaster oven, and stovetop - just be sure to protect your hands!  
Size
Length x Width x Height (without lid): 16 cm x 12 cm x 5 cm / 6.25" x 4.75" x 2" 
With lid on and latched: 
Length: 17.2 cm / 6.75"
Width: 12.5 cm / 5"
Materials
Each is easy to open and made of high quality, 18-10 food grade 316 stainless steel. The inner lip has a silicone band to make a water and airtight seal.
BPA-free, phthalate-free, PVC-free and lead-free. Recyclable.
Packaging
Comes in a thin recyclable cardboard box.
Origin
Sourced from Life Without Plastic, an awesome company owned by a family of activists who were seeking eco-friendly alternatives for years before launching their store.
This product was made in India by a small, trusted, super-friendly, family-owned manufacturer very committed to working with the distributor to offer high quality, unique products that meet customer needs.
End of life
This container should last a very long time! If needed, the container is recyclable. Silicone bands can be burned safely or recycled where silicone is accepted, such as www.sextoyrecycling.com (lol).
Replacement lids can be purchased separately from www.lifewithoutplastic.com.
Liquid error (sections/product-template line 203): Could not find asset snippets/spreadr-reviews.liquid