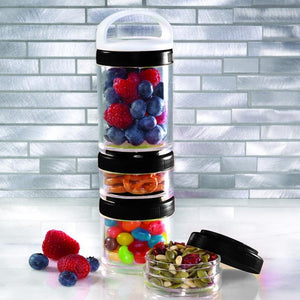 Smart Simple Stackable Storage Containers On Sale
Regular price $36.41 $24.27 Sale
Set of 4 mix stackable storage containers. You can store snacks and candy, fruit and yogurt, veggies and dip, nuts and trail. You can also use it for vitamins and supplements. 
Advantages:
You can use these containers to store & organize formula, cereal, puffs, candies, and snacks

They are great to store and organize crafts items

Each container is securely stacked together 

Smart and simple snacking

Easy to store and e

asy to use

Portable and durable
Features:
The twist and lock system allows you to tote your combination snack anywhere.
This set comes with 4 containers, 4 inner lids, 1 cap, and 1 base
Use individually or as a stackable set
Convenient for snacks on the go
Also useful for protein powders, diet supplements, medicines, vitamins and more
The range of sizes to fit all your needs
Capacity: 40ml/60ml/100ml/150ml

Care instructions:
Wash prior to first use
Excessively high temperatures can cause warping or distortion
Do not use abrasive cleaners, such as steel wool, sourcing pads or cleaners with chlorine bleach, as they may scratch and ruin the surface
Do not use in a microwave
Package Includes: 1 Pc Stackable Storage With 4 Containers.
Liquid error (sections/product-template line 203): Could not find asset snippets/spreadr-reviews.liquid