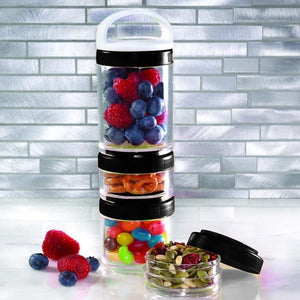 Stackable Storage Container -70%OFF
Regular price $63.17 $18.95 Sale
Twist and lock system allows you to tote your combination snack anywhere. You just need to mix your snack to fill in the 4 in a set and use individually or as a stack-able set.
Product feature:
Convenient for snacks on the go.
Also useful for protein powders, diet supplements, medicines, vitamins and more.
Range of sizes to fit all your needs.
Product care instruction:
Wash prior to first use.
Excessively high temperatures can cause warping or distortion.
Do not use abrasive cleaners, such as steel wool, sourcing pads or cleaners with chlorine bleach.
Scratch and ruin the surface.
Do not use in a microwave.
Liquid error (sections/product-template line 203): Could not find asset snippets/spreadr-reviews.liquid