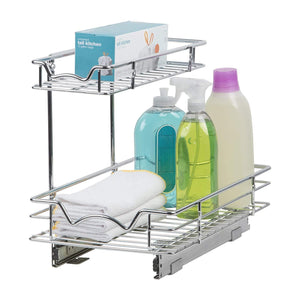 Slide Out Cabinet Organizer - 11"W x 18"D x 14-1/2"H, Requires At Least 12" Cabinet Opening - Kitchen Cabinet Pull Out Two Tier Roll Out Sliding Shelves & Storage Organizer for Extra Storage
Regular price $57.99 $34.97 Sale
Brand: Richards Homewares
Features:
Multi-tiered shelving solution: if you've been looking for a multi-tiered solution to your cabinet storage woes, then your search is over! That's because our pull out two-tiered sliding shelf has two shelves of wide open space, Perfect for a spice rack, pots, pans, dishes, baking sheets, cleaning and bath supplies, or anything else you may need, which means you can finally declutter your home.
Smooth and quiet glide every time: because this kitchen cabinet roll out shelf is professionally engineered with an industrial-grade ball bearing glide system you'll be ensured a smooth and quiet sliding system Every time. This is great for you Because now you won't have to waste time fighting with an under the cabinet system that gets stuck, breaks or is too loud.
Reliable sturdy storage: unlike other slide out cabinet organizers, which don't provide durability or maintain a low profile, Our kitchen cabinet roll out shelf features elegant heavy wire construction which is durable enough to handle everything that you put in it while still keeping a low profile and giving definitive style to your organized cabinets.
Easy mounting and installation: our cabinet organizer measures 11"W x 18"D x 14-1/2"H, requires at least 12" cabinet opening to work properly. It contains detailed instructions and all of the hardware necessary for easy mounting and installation. What that means to you is your installation will be a breeze!
100% satisfaction guarantee: finding the perfect storage solution to declutter and organize your kitchen can seem like an overwhelming task. That's why we are here and happy to help! If for whatever reason that you are less than satisfied, we offer a 100% money back satisfaction guarantee. It's that simple!
Publisher: Richards Homewares Inc.
Details: Tired of looking in your kitchen cabinets lately and fumbling banging pots and pans to get right cookware out of your cabinet? Chances are It happens to you All too often. If you've been looking for a multi-tiered system for your kitchen organization, then look no further! Our two-tier sliding shelf and kitchen cabinet Roll out shelf is the perfect way to declutter and organize your home. The pull out two Tier roll out sliding shelves and storage organizer is made using heavy gauge wire, is easy to install and has an industrial-grade ball bearing glide system, which gives you a smooth and soundless Glide every time. Because we make our kitchen cabinet Roll out shelf in this unique way, it means that you'll have virtually no problem installing or using it. This slide out cabinet organizer has sturdy and high-quality construction that allows for a large number of Items to be stored while maintaining its sturdiness, which means that you'll finally have that strong, sturdy storage solution you've been looking for. Never suffer flimsy storage containers again! Everything you need in kitchen cabinet Roll out shelving! And it's easy to see why customers love it, when it provides a low-profile, space saving organization solution, eliminates clutter while maximizes space in cabinets or under the sink, and provides durability and contemporary design with heavy gauge wire construction. Why wait? Click to order your cabinet sliding shelf system today!
UPC: 49412133579
EAN: 49412133579
Package Dimensions: 19.3 x 12.0 x 3.7 inches
Liquid error (sections/product-template line 203): Could not find asset snippets/spreadr-reviews.liquid