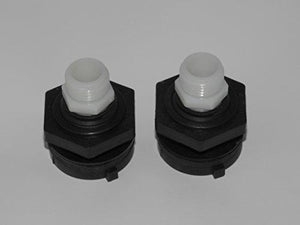 2 Pack Rain Barrel Garden Hose Adapter Bulkhead Connector Water Barrel Fitting and 5 Gallon Bucket Flush Kit
Regular price $0.00 $0.00 Sale
Features:
2 BULKHEAD CONNECTORS WITH GARDEN HOSE ADAPTER; Each has 3/4'' NPT Threads with Male garden hose adapter connection threading to fit your water harvesting and storage containers such as rain barrels; 5 gallon buckets; tanks; aquaponics; hydroponics setups and more; Great for flushing, cleaning, storage or transfer to your other containers
CONNECT WITH COMMON GARDEN HOSES (hose must have female connection on each end) to adapt to your water harvesting; Prepper storage for disasters or emergency preparation; Suitable for farming or home garden irrigation requirements and needs
REVERSE THREADING allows tightening of adapter without backing off of or over-tightening the bulkhead; Bulkhead made of Polypropylene, Garden Hose Adapter made of Nylon
GREAT ACCESSORIES FOR DIY RAIN BARREL SYSTEM to add to your tank with diverter, or for Hydroponics and Aquaponics Systems Kit Makers; Other related needs that require water flushing, cleaning or transfer; Includes EPDM gaskets impervious to most chemicals; Safe for water stocking or water harvest
PERFECT FOR TILE AND GROUT WORK; A/C handler unit drain; boat motor flush when used with a 5 gallon bucket; No heavy water filled bucket to haul across the room or driveway every time it is full
Description:
Usage instructions - Cut a 1.5'' diameter hole in your tank, barrel, or bucket using a standard hole saw.
NOTE: Hole must be at least 2 inches from the bottom of the barrel or the 5 gallon bucket,
whichever one you decide to use it for.
Then simply and easily install this product along with included gaskets to allow the attachment of a standard garden hose for non-leaking water or other fluid transfer.
Many applications for this product for your water storage and transfer needs including as mentioned above, rain barrel water harvesting for irrigation or disaster preparation, 5 gallon bucket flushing, hydroponics and aquaponics, boat motor flushing and farm water supply. Makes your life easier especially on the back!
With small pieces of garden hose you can use several of these bulkhead connectors to link multiple rain barrels for your harvesting and irrigation needs.
Liquid error (sections/product-template line 203): Could not find asset snippets/spreadr-reviews.liquid