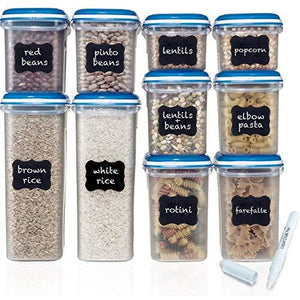 Shazo Food Storage Containers 20-Piece Set (10 Container Set) - Airtight Dry Food with Innovative Dual Utility Interchangeable Lid, FREE Labels & Marker, One Lid Fits All, Freezer Safe, Space Saver
Regular price $41.99 $36.99 Sale
Brand: Shazo
Color: Blue
Features:
KEEP PANTRY STAPLES ORGANIZED - With Easy to Handle Shazo 10 Container Set. With Our Innovative Design Shazo Container Set Is The Perfectly Designed Plastic Food Storage Container Solution For Keeping Food Fresh and Dry. Also Great Use For Crafts, Sewing, Office Supplies, Garage And More.
100% FDA APPROVED BPA-FREE, ABS & SAN PLASTIC CLEAR CONTAINER WITH GRADUATION MARKS - 100% FDA Approved Food Grade. Shazo Clear Containers Make Identifying and Locating Content Easy. Graduation Marks on Each Container Make Measuring Easy Taking The Guess Game out of Your Life. Measurements in Liters.
INNOVATIVE DUAL UTILITY INTERCHANGEABLE LIDS - Our Patent Pending Unique Dual Utility Lids Mechanism make it easy to pour things with ease, no more spilling by accident!. Shazo Lids are Interchangeable Which Means you Do Not Have to Worry About Matching Lids to Containers After each Wash, One Lid Fits All Containers.
SPACE SAVER, SLIM, AIRTIGHT, MODULAR DESIGN, DISHWASHER SAFE - Remove those bags and boxes of pasta, cookies, chips, baking supplies, etc. and put your ingredients into Modular Shazo Containers whose space efficient design maximizes shelf space. Lids Snap Tight for a Secure Airtight Seal to Help Keep Items Fresh. A comfortable grip allows for easy handling and graduation marks make measuring easy! NOT tall, perfect for smaller space storage (please refer to image with dimensions)
FREE LABELS & MARKER - Want To Mark Your Container Content ? We Got You Covered. Included with your Purchase Eighteen High quality waterproof chalkboard labels made from superior VINYL, matte texture with a crisp clean. Just Write, Peel and Stick that its. Marker Included!
Publisher: Shazo
Details: Shazo Food Storage Containers 20-Piece Set (10 Container Set)
Better Organization, Better Food Storage Airtight Dry Food Container with Innovative DUAL UTILITY Interchangeable Lid One Lid Fits All Containers, Freezer Safe, Modular Space Saver Design (NOT tall, please refer to image with dimensions)
At a Glance:
- Stack-able modular design.
- Clear plastic construction lets you identify contents at a glance.
- Measuring scale/ Graduation Marks on Containers for easy measurements.
- Freezer, Refrigerator, Microwave and top rack Dishwasher-Safe.
- One lid fits multiple bases.
- Air-tight Dual Utility Lids with Easy Pour and Conventional Side.
- Containers nest for easy storage.
- BPA-free plastic containers.
- Free Labels (18) & Marker included with your purchase !
UPC: 855334006194
EAN: 0855334006194
Package Dimensions: 11.2 x 9.5 x 6.9 inches
Liquid error (sections/product-template line 203): Could not find asset snippets/spreadr-reviews.liquid