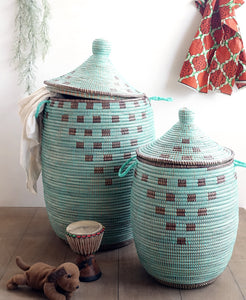 Set of "Pottery Baskets" in Turquoise / African Laundry Baskets
Regular price $234.95 Sale
Set of 2 Laundry Baskets with small dots pattern
Colors: Turquoise & Dark brown
This design made and called "Pottery" by Mö :)
Mö's first pottery was made in green & ivory.
Check it out here.
https://www.modecorarts.com/collections/laundry-baskets/products/green-pottery-design-with-ivory-laundry-basket-laundry-hamper

This beautiful set can suit to baby nursery, kids room or even living room to declutter & decorate at the same time.
They can be used as storage containers everywhere in your house.
If you have an idea of custom colors, please let us know by email.

Dimension (approx.)
XL
Height (Lid included) : 80 cm / 31.4"
Diameter (at open) : 40 cm / 15.7"
L
Height (Lid included) : 60 cm / 23.5"
Diameter (at open) : 32 cm / 12.5"

✤Dear customers✤
Our products are handmade. You might find little defects on them.
As our production or quality control is not as strict as industrial companies, please accept them as natural and handmade charms when purchasing.

We use recycled materials for basket wrapping. It doesn't look fancy but solid. It is necessary because it should be protected well for a long journey until your place. Please accept our effort for eco-friendly stance.
Liquid error (sections/product-template line 203): Could not find asset snippets/spreadr-reviews.liquid