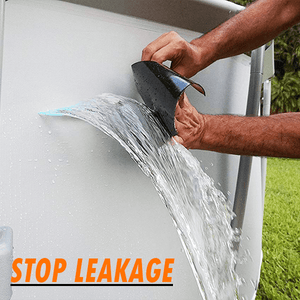 Rubberized Super Waterproof Tape
Regular price $27.97 $11.97 Sale
Fix and patch all large holes, cracks, gaps and tears! BOND together almost any objects! SEAL out water, air and moisture! REPAIR everything possible!
Rubberized Super Waterproof Tape is an industry standard, super strong & rubberized tape, creating professional-grade sealing / bonding results in a pinch and in the long term. Instantly cover cracks & holes by applying this 100% waterproof, leakproof tape for the perfect roof patch, nail hole patch, pipe & gutter leaks. 
Never worry about losing the adhesive power - it increases with time and pressure as the tape is ALL-WEATHER use! And it's so strong, it even works underwater!
Ultra flexible and easy to conform to any shape, making it well suited for gutter repairs, piping any straight / curved equipment.
FEATURES:
Solve Any Sealing Problem


Rubberized tape patches, bonds, seals and repairs virtually everything. 

Quickly covers large cracks, gaps and holes.
100% Waterproof
Expertly engineered to hold water in or keep water out to stably fix leaky above-ground pools, water tanks, pipes, storage containers and more. Even works underwater!
Ultra Strong Adhesive
Designed with an ultra-strong adhesive backing that sticks to any surface and holds up dutifully under conditions of extreme cold, sweltering heat, dampness & moisture or mold & mildew. 
High Flexibility
Specially formulated with a thick, flexible, rubberized backing that readily conforms to shapes, making it well suited for gutter repairs, piping or other curved equipment. 
All-weather Application
Can be applied within a wide range of temperatures from -60º – 260ºF. Functions even in extreme hot, cold, wet or dry weather.
Works on Most Surfaces
Can be used on PVC, acrylic, metal, steel, copper, aluminum, wood, ceramic, porcelain, tile, glass, rubber, fiberglass, stucco, plaster, stone, cement, concrete, dry wall, EPDM roofs, some plastics, fabrics, vinyl and more.
Chemical, solvent and UV-resistant. 
SPECIFICATIONS:
Weight: 181g
Size:  10cm (W) x 152cm (L)
PACKAGE INCLUDES:
1 x Rubberized Super Waterproof Tape
Liquid error (sections/product-template line 203): Could not find asset snippets/spreadr-reviews.liquid