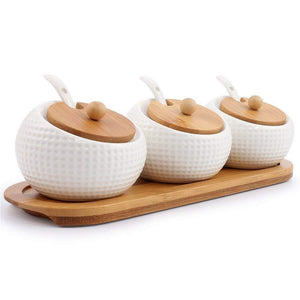 Porcelain Condiment Jar Spice Container with Lids - Bamboo Cap Holder Spot, Ceramic Serving Spoon, Wooden Tray - Best Pottery Cruet Pot for Your Home, Kitchen, Counter. White,170 ML (5.8 OZ), Set of 3
Regular price $30.99 $21.99 Sale
Brand: June Sky
Color: 3 pcs Condiment Pot(2.6"H x 3.4"W/5.8 fl oz)
Features:
Elegant Design - Set of 3 pottery canisters suit for your different needs, without making a mess in your beloved kitchen! Thoughtful design adds each storage container a spoon and removable wooden lids to prevent from moisture and dust. Along with a well quality made wooden base rack to organize your spice jars in place.
Functional - Great little handmade storage jar, good for everyday use or special occasions. An ideal way for keeping Your favorite salt, sugar cubes, powdered creamer, stevia perfectly dry. Sitting on your countertop looks pretty stylish, neat and modernish. Adds a touch of clean elegant style to your modern home.
Best Valentine's Day Gift - The glamorous white porcelain will complement on any home decor. It's a perfect housewarming/ Valentine's Day gift for yourself or for your darling wife, family, friends, colleagues, classmate. The natural appearance of the natural bamboo lids and tray blends beautifully with the color of the canisters. This combination will match any decor.
Capacity & Size: 170 ML (5.8 OZ). Approximate Dimensions (in inches): Each jar with lid - 2.6 (H) x 3.4 (W). Great size to keep just enough on the counter without taking up much space. It looks like golf. More detail measure data you can CHECK THE PICTURES.
What You Get - 3* Porcelain Spice Jar, 3* Bamboo Lids, 3* Mini Ceramic Serving Spoon, 1* Bamboo Tray. And June Sky's prompt and polite customer service. We would try our best to offer you a satisfied shopping experience.
Publisher: June Sky
Details: So Imagine a Porcelain Containers!
Porcelain Containers is a must-have for modern home & kitchen, with Lids, Spoons and a tray is perfect for home and office use.
- The set comes with a nice tray where all three bowls can sit, really an excellent piece of decor with actual utility. The glamorous white porcelain will complement on any home decor, It's a perfect housewarming gift.
- Perfect for keeping seasonings / storing condiments, small snacks, sugar, pepper, beans, salt, etc. At your fingertips on the counter where you cook. The covers keep splatters from contaminating the contents.The set looks nice on the counter. You will Love this set.
- The canisters would also come in handy for using in a sewing/craft room or office, basically anywhere you have small items to store: buttons, ribbons, or small flowers.
- For decorating purposes, make a personalized gift, DIY project, Christmas project, wedding dinner.

A Happiness.
A pleasant Porcelain Containers gives harmonious sense and is an eye catching on the kitchen counter, brighten up the kitchen. Bringing you not only a tasty drinks, but also a pleasure.
-Their smooth white appearance will help to build up a relaxed and happy feelings while enjoying dinner. Serves good on dining table,they are a great addition to Your kitchen,
-Ceramic Condiment Pot Set gives your kitchen a more organized look. These three storages with lid and spoon are made with white ceramic and bamboo material in the wood.
-The elegant look of the spice jar set also makes a perfect housewarming gift or nice gift to any occasions or events!

YOUR CONFIDENCE ASSURED - PEACE OF MIND GUARANTEE
We want to provide a superior kitchen experience with our products you love. As such, if you aren't satisfied with your purchase, contact us within 30 days, and we'll offer you a satisfied solution or refund.
UPC: 680491873149
EAN: 680491873149
Package Dimensions: 11.9 x 5.9 x 4.6 inches
Liquid error (sections/product-template line 203): Could not find asset snippets/spreadr-reviews.liquid