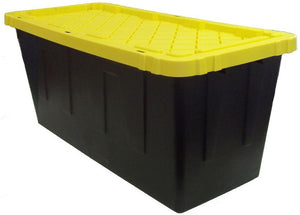 Plastic storage container for hay, straw and shavings!
Regular price $47.50 Sale
Store your hay, straw, pellets and shaving bales easily, cleanly and with little to no waste in our rugged plastic storage containers!
Rugged 208 L Tote with Standard Snap Fit Lid
Capacity: 208 L
Built in handles
Detachable snap fit lid
Durable
Stackable
Lid Latch Type: Latching
Lid Attached: No
Color: Black / Yellow Lid
45" x 20" x 19.5"
$47.50 each plus hst & delivery within specified Ontario, Canada delivery areas ONLY!
If outside of the specified delivery areas, Canada Post shipping charges will apply!
Liquid error (sections/product-template line 203): Could not find asset snippets/spreadr-reviews.liquid