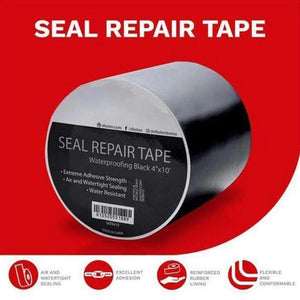 Patch Bond Super Strong Rubberized Waterproof Seal Repair Tape
Regular price $59.95 $19.95 Sale
Rubberized Waterproof Tape is an extremely durable waterproof tape that seals out water, air, and moisture to create a super-strong bond that can repair virtually everything. The tape works underwater. It's a super-hydrophobic rubberized adhesive tape. Made from a rubberized material that is thick enough to be reliable but flexible enough to fit any curve or crease.
A Must-Have for Home Owners

While we love the character and charm of our older houses, sometimes age and general wear & tear catches up with the best of us. Rubberized Waterproof Tape is the perfect solution to outdoor and indoor sealing needs – from leaky roofs & gutters to weatherworn sheds, garages, barns & outbuildings.
100% Waterproof Seal Keeps You Dry
Slap this tape onto a wet and leaking hole or crack and watch it not only instantly stick, but seal tightly and stop the flow of water at its source. Designed for use inside or on the outside of above-ground pools, water tanks, drums and liquid or moisture-retaining storage containers.
Heavy Duty Extreme Weather Resistant
Rubberized Waterproof Tape is expertly engineered to handle harsh weather conditions all year round – from freezing cold & soggy rain to blazing sunshine and sweltering heat near fireplaces and woodstoves. Resistant to mold, mildew, smoke, flames and temperatures ranging from -70 to 200 degrees F!
INSTALL INSTRUCTIONS:


Remove the clear plastic release liner to reveal the grey sticky side of the tape. Keep the adhesive side of tape clean and dry. Apply tape to the surface.
The tape needs the pressure to bond completely. Otherwise, it will come off at a later time. Apply pressure to the tape to activate the bonding process. The firmer the pressure or rubbing applied, the faster the bond. Use a roofer's roller over the tape to get the quickest, best bond.
Notes:
For maximum adhesion in porous surfaces, using a standard blow dryer will help the adhesives bond with the surface.
Due to the different monitor and light effect, the actual colour of the item might be slightly different from the colour showed in the pictures.
Limited Time Only. FREE SHIPPING!
This item is NOT available in stores.

Guaranteed safe checkout:
| VISA | MASTERCARD

Click ADD TO CART To Order Yours Now! 
Satisfaction Guaranteed With Every Order.
Please give us 2 to 3 Weeks for US Shipping
Liquid error (sections/product-template line 203): Could not find asset snippets/spreadr-reviews.liquid