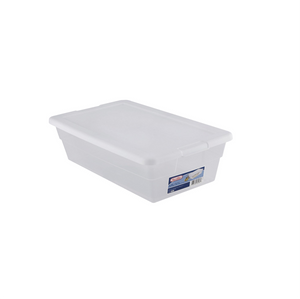 Small Sterilite Storage Containers By Sterilite | Sterilite 6-Quart Storage Bin Shoe Box - Clear and White - 1 Pack
Regular price $9.99 $6.99 Sale
Prevent Rusty, Musty Shoes & Clothes That Happens When Clothes Have Stayed Too Long In The Closet. Get The 6qt Sterilite Storage Containers -- Say Goodbye To Excessive, Washing, Ironing And Dry Cleaning.
Imagine Having Your Shoes, Clothes & Bathroom Accessories Organized Better While Maintaining The Fresh-smell. Prevent Stubborn Mold & Residue Because You Made A Better Choice.
Maximize On Your Space & Re-organize Your Bedroom. Have Your Shoes, Clothes & Bathroom Accessories Secure In A Safe Latching Lid To Base Clear Sterilite Storage Containers.
Enjoy The Airtight Clothes Preservation Box Attached Lid In Plastic Refreshing Container. Clean Your Shoes & Wash Your Clothes In Advance And Preserve In This Dust Protecting 

Sterilite Storage Containers

Because It Will Maintain The Lucious Smell, Color & Texture. It Protects Your Clothes & Shoes From Getting Musty.

See-through base

Recessed handles for easy lifting

Secure-fit lid

Indexed surface for stability when stacking

Measures 14" x 8" x 4 7/8"
The 6 Quart Storage Box features a see-through base that allows contents to be easily identified. The white lid snaps firmly onto the base to keep contents contained and secure. This storage box is ideal for storing shoes and other small items around the home and fits conveniently on 16" wire closet shelving, making it ideal for organizing and storing small items in the closet.
6 quart sterilite storage containers
sterilite storage containers with lids
sterilite storage containers 14 x 11 x 3.25
sterilite storage containers food
Liquid error (sections/product-template line 203): Could not find asset snippets/spreadr-reviews.liquid