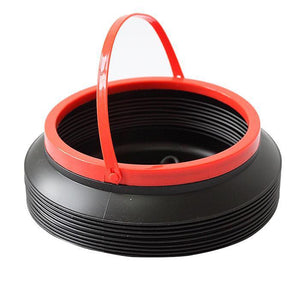 Multi-function car folding bucket
Regular price $19.95 $10.95 Sale
This is a creative multi-functional magic bucket, which can be used both for household or outdoor activity like used as a barrel to store water, a trash can in car use, fishing bucket, or a storage box in your trunk, etc. It is a highly useful daily supply, don't miss it!
Feature:
Foldable telescopic structure design: the shape is novel and unique, the air is bright and the color is bright. Solved the problem of tight space in the trunk of the car.
Materials: The barrel material is non-toxic and has no odor, and meets the relevant international environmental protection requirements.
Size: When used, the barrel can be pulled up according to the actually required volume; the height reaches 22cm (8.66in) and the volume is 4L; when compressed, the minimum is 6.5cm (2.56in).
Acid and alkali/salt/oil resistance: can be placed in alkali, acid, salt, oily liquids, such as seafood, rice, vegetables, oil and so on. Easy to clean and clean after use.
Multi-Functional: Perfect for any water and storage containers and it can be used as a wash basin or foot bath, can also be used for camping, fishing, beach or picnic, hiking, boating, cruise, and other outdoor activities.
 Specification:
Material: Plastic
Fold: Yes
Package Includes: 1x Multi-function car folding bucket
Liquid error (sections/product-template line 203): Could not find asset snippets/spreadr-reviews.liquid