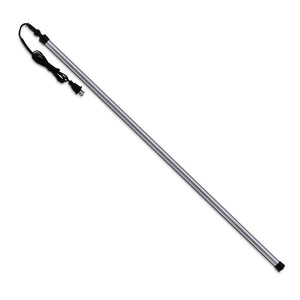 Mesa MD36 Dehumidifier Rod with Detachable Plug
Regular price $55.00 $42.95 Sale
Mesa MD36 Dehumidifier Rod with Detachable Plug
Mesa's NEW MD36 dehumidifier rod that is 36" long and will cover up to 500 feet of interior space. This is the perfect fit if you have a large gun safe. Your valuable items, guns and papers can be damaged by moisture, rust or mold. Use the MD36 Mesa Dehumidifier to protect against that damage. This product is perfect for tightly closed spaces such as safes, vaults, closets, auto, boats, trailers, attics, large storage containers.
The Mesa MD36 dehumidifier will eliminate dampness and protect your valuable items from moisture, rust or mold.
Features:
Lightweight aluminum tubing body 36".
No chemicals, to replace, no moving parts, no maintenance!
Easy to install. 2 clips with screws included.
Reduces rust, mildew & moisture in humid, tightly closed spaces.
Great for use in safes, home, auto, boats and much more!
Easy detachable plug for quick install.
Lifetime Warranty against defects.
Includes:
1 Dehumidifier Tube.
1 Detachable Cord + Plug.
2 Brackets.
4 Screws.
Liquid error (sections/product-template line 203): Could not find asset snippets/spreadr-reviews.liquid