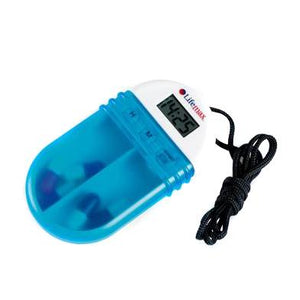 Lifemax Pill Box Reminder
Regular price $13.99 Sale
Lifemax Pill Box Reminder - Features:
Can be worn around the neck for convenience
Pre set a sound alarm when medication is due 
Real time display
Flashing light as well as audio alarm 
Easy to slide open storage container
Pocket size tablet holder can be worn round the neck and pre-set to sound alarm when medication is due. With a real time display, audible alarm and flashing light, the reminder can also be used to store your tablets inside the easy to slide open container. Timer can be set to count down for up to 19 hours 59 minutes and to count up to 19 minutes 50 seconds. Uses a 1 x 1.5V button cell battery (included). 92 x 50 x 18mm.
Liquid error (sections/product-template line 203): Could not find asset snippets/spreadr-reviews.liquid