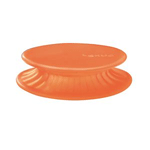 Lekue - Stretch Top (Food Storage Container Covers)
Regular price $0.00 $17.99 Sale
Info: Available in Various Sizes and Colours
These reusable stretchy tops by Lékué are an environmentally friendly, safe and cost effective food storage option that provides a much healthier alternative to wasteful plastic wraps.  
Product Notes:
'Stretch tops' can cover a variety of containers or protect foods with slices removed, depending on the size. Made of high quality 100% platinum silicone (which is BPA-free), they repel germs and are a safer sealing alternative than plastic wrap, making them an excellent, environmentally friendly addition to your household.
Lékué's platinum-catalyzed silicone is BPA free, dishwasher safe, recyclable, non-stick, flexible/foldable, odourless, and residue-free. It repels water and germs, and can withstand extreme temperatures of between -60°C up to 220°C.
The 8.5cm/3.3 inch diameter size is suitable for small cans or containers of multiple materials (metal, plastic or glass), and can also preserve the freshness of fruit and vegetable halves such as oranges, onions etc.; the 11.5cm/4.3" size covers small containers or slightly larger fruit and vegetable halves; and so on up to the largest size, which can do large serving bowls, plates, pie plates, salad bowls and even much larger fruits such as watermelon.
Suggested Usage:
Prolong food freshness efficiently using Lékué's Stretch Tops. A vacuum seal is created with ease by pressing down on the top once it is fit over a container, preventing contamination and preserving optimum freshness. The elasticity of the Stretch Tops allows them to adjust to containers of different sizes.

Maintain food freshness with ease using a Stretch Top by Lékué. Once the lid is in place, press lightly to create a vacuum seal. No more unnecessary tangles or waste due to the use of questionably safe types of plastic wrap.

Wash using a non-abrasive soap prior to using.
Liquid error (sections/product-template line 203): Could not find asset snippets/spreadr-reviews.liquid