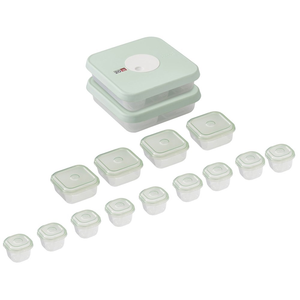 Joseph Joseph Dial™ Baby Food Storage Container With Datable Lid
Regular price $29.95 Sale
Dial™ Baby food storage containers make storing and serving food for babies safe and easy, these BPA-free containers come with a clever contra-rotating dial in the lid to let you clearly date the contents.
Product Features
Dial™ Baby food storage containers are great for reducing home food waste, letting you keep track of when you put your baby food in the fridge or when you need to use it by.
To use the dateable lid, decide what date you want to display then simply turn the dial clockwise to set the month and anti-clockwise to set the day.
These baby food snack pots come in two sizes for different stages of baby's development; Stage 1 (6-9 months) and Stage 2 (9-12 months). Each comprises of portion-sized tubs with snap-shut lids that fit neatly inside the containers. Portion sizes are a guide only and can be doubled up to increase meal size.
Perfect for storing homemade baby food and puree for the weaning stage in the fridge or freezer, these BPA-free food containers are also safe for use in the microwave and dishwasher.
Product Information
Model Number :

81045

Dimension :

6.8 x 6.8 x 2.1 inches

Item Weight : 1.21 pounds

Shipping Weight :

1.23 pounds

Origin : Imported
Liquid error (sections/product-template line 203): Could not find asset snippets/spreadr-reviews.liquid