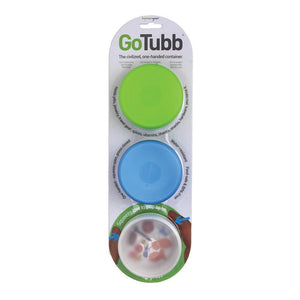 HUMAN GEAR | GO TUBB™ One handed Storage Container, 3pk - Large
Regular price $11.00 Sale
HUMAN GEAR | GO TUBB™ One handed Storage Container, 3pk - Large
GoToob or GoTubb. Where else can you find such an ingenious design that allows you to open and close it with one hand only?
Just squeeze the container sides and the lid is popped. To close, simply press back on - with one hand!
For anything that can't be squeezed out of a GoToob, there's GoTubb™
The Human Gear GoTubbs are perfect for pills, knick-knacks, snacks, small change, any bits-n-pieces you can't afford to lose! The recessed and textured labelling area resists markings being rubbed off. Easy to see transparent tops let you know what's inside without opening them.
Size: 76mL
Colours: Clear, Green and Blue
Liquid error (sections/product-template line 203): Could not find asset snippets/spreadr-reviews.liquid