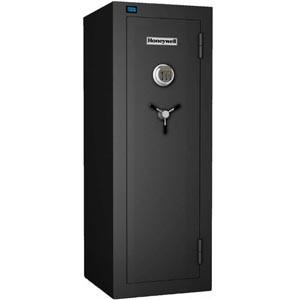 Honeywell 3018DG 18 Gun Executive Gun Safe with Climate Monitoring
Regular price $1,399.95 $960.00 Sale
Honeywell 3018DG 18 Gun Executive Gun Safe with Climate Monitoring
Are you looking for the safest way to securely store your guns? If so, the Honeywell 3018DG 18 Gun Executive Safe with a Digital Climate Monitor is the way to go. This ultimate storage container features a vault-style spindle handle and six solid steel locking bolts, ensuring that it is going to be difficult to be able to break into your safe.
The interior of the cabinet is completely carpeted and houses a removable and adjustable shelf and gun racking that can hold up to 18 long guns at a time. A removable box with a key is included and can be used to store ammunition or other small accessories. An exterior backlight LCD temperature and humidity gauge is the perfect way to stay on top of factors that can damage your guns and other items.
Safety precautions are extremely important when it comes to guns. Keeping them away from children is essential at all times and a good safe can be an easy solution to keeping them locked away. To protect yourself from intruders or from a curious child, a programmable digital lock is included and prevents unwanted access to the safe. If you need immediate access or cannot remember the code you set, override keys are provided so you can still get in even if you are locked out.
Protecting your guns in a fire can also be important. Not only do you not want to lose something so near and dear to your heart and a part of a major hobby, but heat and flames near ammunition can cause it to explode, triggering a much bigger situation than it needs to be. For this reason, our Honeywell 3018DG 18 Gun Executive Safe with a Digital Climate Monitor can withstand temperatures up to 1400 degrees F. Additionally, it will last up to 30 minutes in a fire, giving first responders a chance to get the fire under control before it becomes a problem.
This amazing product is offered with a very generous seven year limited warranty. Safe and Vault Store offers fast and free shipping, although restrictions do apply. Our price match guarantee means that you get the best deal possible on all of the products you love. Let us help you find your ideal gun safe today!
If you have any questions regarding the Honeywell 3018DG 18 Gun Executive Gun Safe with Climate Monitoring, please give us a call at 800-207-2259 today!
Features:

Programmable digital lock.
Temperature and humidity gauges monitor and display interior conditions.
30 minute fire protection up to 1400 degrees F / 760 degrees C.
Override access keys (2 included).
Adjustable / removable 18 gun rack.
3 live, 3 dead steel 1" lock bolts.
Scratch resistant powder coat finish.
Sturdy open.
Close spindle handle.
Interior locking storage.
Ammo box.
Carpeted interior & floor.
Predrilled mounting holes.
Mounting hardware included.
Seven year limited warranty.
California Proposition 65 Warning
WARNING: This product can expose you to chemicals including DEHP (Di-2-ethylhexyl phthalate), which is known in the State of California to cause cancer, and which is known in the State of California to cause birth defects or other reproductive harm.
For more information go to 
Liquid error (sections/product-template line 203): Could not find asset snippets/spreadr-reviews.liquid