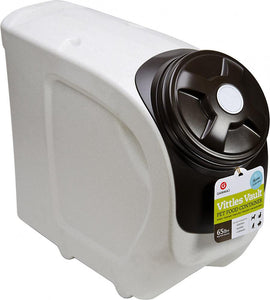 Gamma2 Vittles Vault Home Stackable Pet Food Container
Regular price $43.99 Sale
The same airtight function of our Vittles Vault Outback containers, but with a kitchen-friendly appearance. These containers are slightly more narrow, which makes them perfect for kitchen cabinets, pantries, or even under the sink.

Why We Love It
Includes free scoop.
Use a dry-erase marker to personalize your lid sticker with your pet's name, feeding instructions or the date your pet food bag was opened.
Crafted from food-grade, BPA-free HDPE plastic. Safe for both people and pets!
Made in USA.
About Gamma2
GAMMA2, Inc. (the maker of the Vittles Vault, GAMMA Seal Lid and Skamper-Ramp) first created and patented an airtight container in 1989. The original concept was designed for the biomedical storage industry, but GAMMA2, Inc.'s CEO, Curt Leland, saw an unmet need in the pet industry.

The Vittles Vault is known fondly as that thing with the "spinning lid." It serves an important function, and we are hugely committed to our purpose of providing a reliable food storage solution. Our patented sealing system is unmatched by our competitors and people in the know recommend Vittles Vaults above any other food storage container.

We have always been committed to USA manufacturing AND sourcing of food-grade, BPA-free materials. In a world where prices keep going up, we strive to keep our prices competitive. We focus on what we do best - making products that keep you and your pets happy, healthy and safe.
Liquid error (sections/product-template line 203): Could not find asset snippets/spreadr-reviews.liquid