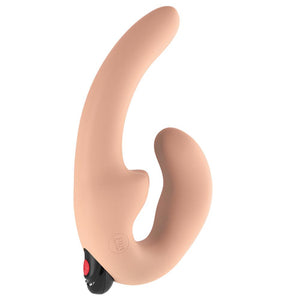 FUN FACTORY SHARE VIBE WEARABLE DOUBLE DILDO
Regular price $195.95 Sale
SHAREVIBE – A-SHARE WITH A REAL VIBRATING BULLET
SHAREVIBE is ideal for couples in search of an upscale strap-on toy. This German-made,  beauty is the only toy of its kind with a strong 5-pattern rechargeable vibrator  incorporated into its base. As such, it lets a couple of share vibrations during lovemaking. SHAREVIBE also enhances intimacy by allowing for more skin-to-skin contact between lovers thanks to its strapless design. This Couple toy feels and looks just like an extension of  body; using it to make love will seem completely natural. Cleaning SHAREVIBE only requires soap and warm water, or a basic TOYCLEANER.
The only  with a 5-speed vibrator in its base!
Luxury BULLET is rechargeable and submersible
BULLET can be removed from sheath for external massages
SHAREVIBE looks and feels like an extension of your body
A strap-less "strap-on" for more skin contact between lovers
Smaller bulb is vaginally inserted and held by the active women for pegging
Pleasures active and passive partner simultaneously
Moves with the couple (adapts to sex positions)
100 % medical grade silicone, odorless
Silky soft texture
Made in Germany
Easy to clean with  or water and a mild soap
Size: 21.9 cm and Ø 2.1 cm (passive part) / Ø 3.9 cm (active part) and 375 g
In Cream, Pink and Dark Violet 
SHAREVIBE - Also available as a kit!
Giving this toy as a gift or just want to cover your bases? Our  comes with a SHAREVIBE, water-based  lube, spray , a colorful, antimicrobial travel , and a  storage container that also makes a great gift box! The kit is worth 179,50€, but we're offering it for only 109,90€.

SHAREVIBE – The vibrating strapless toy for couples.
A best-seller for over a decade, the classic  Couple toy is now available with a BULLET integrated into its base. The new version of this all time favorite love toy is called SHAREVIBE.
SHAREVIBE has a short end (the bulb) and a longer end (the shaft). The short end is inserted vaginally into the partner playing an active role in lovemaking. The partner wearing the SHAREVIBE is in complete control of the toy's longer end by intuitively holding it with the pelvic muscles. The receiving partner will love the girth and length of the shaft, which was designed to feel just like an extension of the wearer's body.
Because SHAREVIBE is harness-free, it offers two lovers the chance to feel each other's hips and skin during intimacy. The active partner may use her  to clench on the short end and control the long end perfectly, as if it were part of her own body. Love making with SHAREVIBE feels intense and completely natural, unlike the sensation lovers may get from harnesses.
The revolutionary feature about the SHAREVIBE is that it houses a removable BULLET stronger than any vibration unit typically used in such couple toys. Partners will love the 2 vibration rhythms and 3 intensities on this waterproof and rechargeable vibrating BULLET! Its vibrations can last up to 90 minutes at full speed. As all toys Made in Germany, SHAREVIBE is designed for performance and the BULLET's incredible strength is testimony to the fact that FUN FACTORY always keeps a tight focus on functionality.
SHAREVIBE was made to enhance intimacy between two lovers. This is why FUN FACTORY took care to design its shape so perfectly, making sure it moves organically with a couple while they are . The part connecting the short end to the long end offers some flexibility, which allows the couple to enjoy all their favorite sex positions without having to reset the toy during transitions. From missionary to doggy, on land or underwater, SHAREVIBE moves with a pair like it is part of their body.
SHAREVIBE – TWICE THE VIBE
Shaped for Mutual Satisfaction.
Want to get closer than ever? The SHAREVIBE's curves hug yours just right, making it feel like an extension of your own body—one that lets you and your partner enjoy extra-strong vibration.
Shaft: 8.6" length, 1.1" diameter
Bulb: 1.5" diameter
Designed and handcrafted in Germany 
Don't let anything get between you and a perfect night. The SHAREVIBE is a wearable double dildo that can be used with or without a harness, letting you and your partner get very, very close. Its shorter bulb is designed for G-spot massage and a feeling of deep fullness; just lube it up, slip it in, and get ready to be richly rewarded for giving your partner the business. Even better, the ridge at the base rests against the clit, giving you both friction and vibration exactly where you want it. Meanwhile, the receiver gets a smooth, slim shaft with a gentle curve that makes G-spot or prostate play a cinch. 
Oh yeah, and the vibration is pretty freakin' amazing. The SHAREVIBE's body-safe silicone transmits the rumbling vibes from the removable 5-setting MASSAGE BULLET to both the wearer and the receiver. The bullet is even waterproof, making sex in the shower an even more appealing option.
Looks & feels like an extension of your body (harness-free).
Moves with the couple: bends to adapt to 
various sex positions.

A: active part (stays inserted)
B: passive Part (pleasures the partner)
8.6 in. and Ø 1.1 in. (passive part) / Ø 1.5 in. (active part) and 0.8 lb
Place the bullet (B) in the opening (A) of the silicone body.
This toy can be used anally.
It's submersible waterproof!
SHAREVIBE is a battery operated vibrator with an attached and integrated battery charger inside the toy. It is charged using the original MAGNETIC CHARGER of the CLICK 'N' CHARGE system.
All FUN FACTORY toys are invented, developed, designed AND produced in Bremen, Germany.
FUN FACTORY offers a diverse and colorful spectrum of toys all made with 100 % medical-grade !
Carefully clean the toy before first use and after each use with warm water and mild soap. The CLEANER is especially suited for cleaning erotic toys as well as for gently washing genital areas.
A few drops of water-based lubricant ensure comfort when inserting your toy. FUN FACTORY recommends our , which is specially manufactured for use with toys.
WARNING: The use of silicone-based lubricants, oils, and creams (suntan lotion or sunscreen, lip care products, essential oils, coconut oil, and edible oils of all types) can cause irreversible damage to the control unit and the entire toy. Please DO NOT use any of the products listed above in combination with a FUN FACTORY toy. The use of any of these products with your toy may void your warranty.
Liquid error (sections/product-template line 203): Could not find asset snippets/spreadr-reviews.liquid