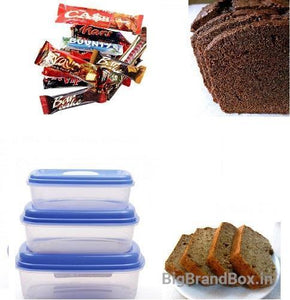 Fresh Vent Rectangular Container - Set Of 3 By Princeware
Regular price $186.00 Sale
 Fresh Vent Rectangular Blue Storage Container - Set Of 3 By Princeware
Product 
Description
If you need functional containers to store bread, chopped vegetables, cooked food in the refrigerator or dry things like plain cakes, bread etc.
outside then you must consider investing in this set of three rectangular containers from the house of Princeware.
The containers have been equipped with a functional vent that allows air to flow when opened, keeping the contents fresh.
The bright blue lids and the semi transparent body makes them convenient for use as you can see the inner contents quickly. The high quality material used in their construction makes these three different size containers apt for regular use and safe for health too.
Liquid error (sections/product-template line 203): Could not find asset snippets/spreadr-reviews.liquid