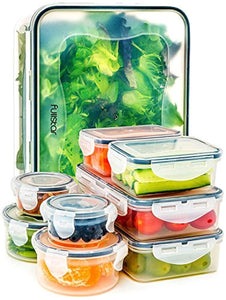 Food Storage Containers with Lids - Airtight Leak Proof Easy Snap Lock and BPA Free Clear Plastic Container Set for Kitchen Use by Fullstar (18 Piece Set)
Regular price $35.99 $27.99 Sale
✅ 18 PIECE SET includes 9 containers with 9 lids. Store and transport entrees and soups confidently with our revolutionary snap-lock containers. Also great for small arts and crafts supplies like beads.

✅ 5 SIZES fulfill all your storage needs. Includes (1) 196 Oz rectangular container; [24.5 cups] (2) 27 Oz rectangular containers [3.4 cups]; (2) 9.1 Oz rectangular containers [1.14 cups]; (2) 9.1 Oz round containers [1.14 cups]; and (2) 3.3 Oz round containers [0.4 cups].

✅ LEAKPROOF 4-hinge locking system forms an airtight, watertight seal between container and lid. Never endure spilled food in your lunch bag again. Translucent design allows easy identification of contents.

✅ SPACE-SAVING utilization of freezer and cupboard area. Fullstar Food Storage Containers make efficient use of every inch of your home kitchen because they are stackable and nesting.

✅ FDA APPROVED polypropylene plastic contains no BPA, phthalates or other toxins to leach into food. Fullstar Containers are refrigerator, freezer, microwave safe (base only, NOT lid). Made in China.
Liquid error (sections/product-template line 203): Could not find asset snippets/spreadr-reviews.liquid