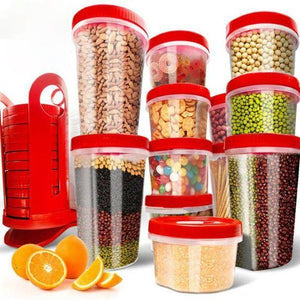 Food Storage Containers BPA Free Leak-proof Plastic Storage Set - 25 Piece
Regular price $49.99 $24.99 Sale
With this 25-piece of amazing plastic airtight storage containers, you can safely store away your food without worrying about insects, rats or other pests. They are suitable for cereal, snacks, flour, nuts, sugar, coffee, tea, dry pet food, liquid and other anything else you may need to store! Lids snap tight for a secure airtight seal to help keep Items fresh, graduation marks make measuring easy! With the clear transparent container design, you can clearly see what inside in the containers just a glance for better storage management. With a stackable and modular system design, these storage containers will be space efficient for optimal countertop and pantry organization.
Condition:
New
Warranty:
30 Day Warranty
Features:
ULTIMATE FOOD STORAGE SOLUTION: There are 4 x 946ml/4 US cups/ 32 oz and 8 x 473ml/2 US cups/ 16 oz storage containers in this airtight food keepers. It is not only ideal for storing dry foods such as spaghetti, flour, sugar, cereals, nuts, snacks, pasta, coffee, fruit and but also perfect for holding liquids such as water, juice, soup and more. No need to worry about liquids spilling out.
INNOVATIVE RACK ORGANIZATION AND STORAGE: This canister set has a ready to assemble a rotating rack for easy storage, save up a bunch of free space, organize your pantry easily. U
MICROWAVE, DISHWASHER & FREEZER SAFE: For easy cleanup, our pantry food storage containers and lids can go right in the dishwasher. They can also be stored in the freezer and easily microwaved to defrost and reheat (open vent or remove lid before microwave use)
ERGONOMIC DESIGN: The lids of these food storage jars have an ergonomic design makes it easy to grip and open. The volume mark is located at the side to let you know exactly how much content has left inside.
SAFE & DURABLE: Our food storage container set is made of high-quality plastic, BPA free, it is more durable and light weigh in comparison to the fragile glass products.
Packaging:
Retail
What you get:
Twenty-five [25] Food Storage Containers BPA Free Leak-proof Plastic Storage Set
Liquid error (sections/product-template line 203): Could not find asset snippets/spreadr-reviews.liquid