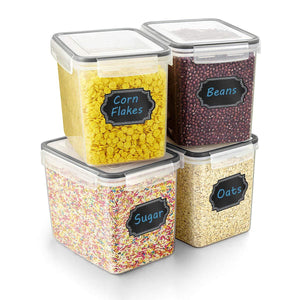 Food Storage Containers Airtight Containers- Estmoon Plastic Cereal Containes, Kitchen Storage Containers - Leak proof, Locking Lids BPA Free- For Cereal, Flour, Pet Food, Set of 4 (122.99 oz / 3.6L)
Regular price $52.99 $40.99 Sale
🌶️ PREMIUM QUALITY: Food storage container is made of high quality, transparent and durable FDA approved polypropylene plastic, free of bis phenol a plastic material and free from harmful substances. Transparency allows you to see things clearly, adding or searching things easily.

🌶️ DESIGN & APPLICATION: Food storage container is square, easy to stack and saves the kitchen space. Well sealed, not only for kitchen, but also for picnic, camping garage, game room, etc.

🌶️ KEEP FOOD DRY & SAFE: Seal, waterproof, leak-proof, keep dry food fresh, store food safely, prevents pests or mice. plastic storage container is high enough to hold pasta, cereal, coffee, etc.

🌶️ EASY TO CLEAN: The dishwasher and fridge are safe and container lid can be removed to better clean the inside.

🌶️ 100% Satisfaction Guarantee: We fully believe that you will love our containers. The Estmoon food storage tank is backed by a fully satisfactory guarantee. If you have any questions, please contact us and we will do our best to serve you.
Liquid error (sections/product-template line 203): Could not find asset snippets/spreadr-reviews.liquid