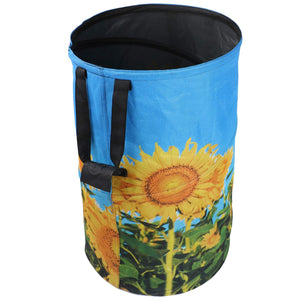 FLORA GUARD 32 Gallon Garden Bag - Reusable Pop-up Gardening Bag, Sun Flower Print Collapsible Canvas Portable Yard Waste Bag
Regular price $36.09 Sale
FLORA GUARD 32 Gallon Garden Bag - Reusable Pop-up Gardening Bag, Sun Flower Print Collapsible Canvas Portable Yard Waste Bag
---
Product Details
Product Dimensions: 17.7 x 17.7 x 2 inches
Item Weight: 1.9 pounds
Shipping Weight: 1.9 pounds
Manufacturer: FLORA GUARD
HIGH-CAPACITY: Oversized storage container bag holds up to 32 gallons of garden waste for maximum yard clean up with minimal effort.
COLLAPSIBLE: Save space, easy to carry.
DURABLE: With steel-reinforced, heavy duty oxford canvas fabric and a hard shell base, this standalone lawn and leaf bag holder can withstand outdoor wear and tear.
BEAUTIFUL APPEARANCE: The garden bag bears a sunflower. It looks very nice.
MULTIFUNCTIONAL: Ideal for collecting weeds, grass clippings, other types of yard waste or even toys or laundry off the clothesline.
We strive to provide you with the highest quality product and the best customer experience possible!
Liquid error (sections/product-template line 203): Could not find asset snippets/spreadr-reviews.liquid