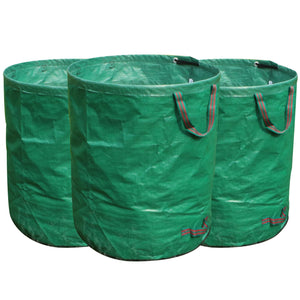 FLORA GUARD 3-Pack 72 Gallons Garden Waste Bags - Heavy Duty Compost Bags with Handles
Regular price $27.09 Sale
FLORA GUARD 3-Pack 72 Gallons Garden Waste Bags - Heavy Duty Compost Bags with Handles
---
Product Details
Package Dimensions: 14.2 x 10.5 x 3.1 inches
Item Weight: 2.65 pounds
Shipping Weight: 2.65 pounds
Manufacturer: FLORA GUARD
DURABLE:Garden waste bag made from UV-treated polypropylene tarpaulin.
LARGE CAPACITY:Oversized storage container bag holds up to 72 gallons of garden waste for maximum yard clean up with minimal effort.
VERSATILE:Use for collecting weeds, grass clippings, other types of yard waste.
EXTRA HUGE: Set of 3 garden bags - 72 gallons of maximum capacity (each bag) - Height 30'' Diameter 26'' - Maximum weight of 120lbs per bag. Including a flexible hoop to increase stability and keep bag open, which help to easy to fill and easy to empty.
COLLAPSIBLE - This 26 inch wide and 30 inch tall garden bag folds down to a compact 2 inches for space saving storage.
It is one of the most useful tools for your garden. The material is made of durable pp woven fabric. Pp fabric is tear-resistant, water-repellent and resistant against most strains. Including a flexible hoop for the upper egde to increase stability. So the garden bag stays open and can be filled even with one hand if necessary. For a clean transport with your car. In addition, the garden bag has a comfortable height for the trunk. Please notice whether the garden bag is suitable for your purposes. We recommend: Large and high FLORA GUARD garden bags (72 Gallons) are recommended for a lot and light waste such as leaves, wilted parts of plants or stems of roses, shrubs and trees. For anything you need more volume and height. Advantage: you just need one garden bag to transport all the waste. Why choose FLORA GUARD Garden Bag? FLORA GUARD 3pcs multipurpose reusable bags are good for all sorts of yard chores, storage, recyclables and more. Made of durable pp woven fabric, FLORA GUARD's bag is tear resistant and strong. 3pcs in a set is the best combination, allow you to swallow huge capacity of garden, household waste and collect leaves, weeds, grass, kindling and logs for campfire. Our square design is far more stable when doing job than the conventional design. BUY YOUR GARDEN BAG TODAY, RISK FREE!
Liquid error (sections/product-template line 203): Could not find asset snippets/spreadr-reviews.liquid