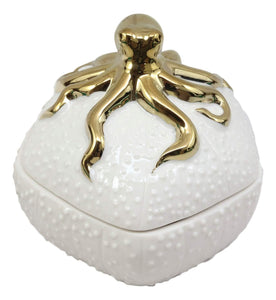 Ebros Ceramic Gold Giant Octopus Round Jewelry Box As Coastal Beach Ocean Nautical Reef Decorative Storage Knick Knack Trinket Box Idea for Mother's Day Women Girls
Regular price $19.99 Sale
• This Beautiful Rounded Octopus Jewelry Box is made of ceramic stoneware. The octopus is gold plated, displaying a nice bling bling shine of golden luxury to the decor piece.
• The Octopus jewelry box measures 4.25" High, 4.5" Wide and 4.25" Deep approximately. It weighs about 11 ounces.
• This unique container is multifunctional and can be used as a small jewelry box, a place to keep your vitamins, or storage for keepsakes and trinkets. This unique storage container is the perfect gift for birthdays, Christmas, Mother's Day, weddings, engagements, or any special occasion. Your friends and family will love their gold aqua octopus trinket box.
• Octopuses are sea animals famous for their rounded bodies, bulging eyes and eight long arms. These cool critters live in all the world's oceans, but they're especially abundant in warm, tropical waters. This delightful trinket box will take you to the sea and give you calm and relaxation!
• This is an Ebros Gift exclusive collection. Jewelry shown in pictures are not included.
Liquid error (sections/product-template line 203): Could not find asset snippets/spreadr-reviews.liquid