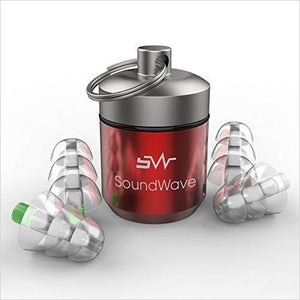 Noise Cancelling Ear Plugs
Regular price $0.00 $18.99 Sale
Details: Professional Grade Earplugs for Any Environment Do you want maximum effectiveness reusable ear plugs that you can take with you anywhere? These are the perfect daily earplugs for construction workers, industrial workers, shooting enthusiasts, DJs, bands, music festival lovers, concert goers, drummers, and musicians of all types. Sleep Better Than Ever & Reduce Snoring Noises SoundWaves adult ear plugs are comfy to wear while sleeping and help muffle unwanted noises from snoring, the street, neighbors and even children and babies. The portable aluminum storage container means you can take them with you on air planes and trains. Sleep better than ever before while traveling or on the go. Protect Your Ear Canal Each silicone rubber ear plug is designed with the highest standards in safety and comfort. Clear semi-invisible coloring with white and green filters are soft and low profile to offer discrete comfort and anti-noise protection for everyone. Reusable & Washable Hypoallergenic Material Essential for anyone with sensitive ears who needs regular acoustic or audio filtering. Perfect for Studying, Reading & Meditation. Don't think these ear plugs are just for high noise environments and events. Study, read and think in peace no matter where you are. Use either foam roller to loosen the fibers in your sore muscles in the comfort of your own home. Get rid of unwanted background noise and conversations...office workers really love our ear plugs too! Join endless satisfied customers embracing silence...CLICK ADD TO CART and Order TODAY!
Features:
✅ PROTECT YOUR EARS - High Decibel loud external noises can have devastating short and long term effects on your hearing. Filter outside noises and reduce inner ear damage with our noise cancelling ear plugs for men and women. These hifi ear plugs still let the outside sounds you need in, while filtering out sharp db acoustic sounds that can cause tinnitus & hearing loss.
✅ COMFORTABLE & SAFE - Each case comes with 2 pairs of corded ear plugs. One pair of NRR 23 and One pair of NRR 27 high fidelity noise reduction ear plugs. Plugs can accommodate small, medium, and large ears and can easily be worn under helmets, hats, and work headgear. Each earplug is made from soft silicone rubber for extreme comfort all day long.
✅ DISCREET & PORTABLE - The lightweight aluminum carrying container is just 2.6 inches tall and 1 inch wide. This means it can easily and discreetly fit in your pockets and keep your ear plugs clean & dry from the outside environment. Each compact ergonomic carrying case is perfect for going to concerts, parades, sporting events, festivals and on airplanes.
✅ PRESERVES SOUND QUALITY - Each set of noise cancelling ear plugs still allow some exterior sounds in. We've designed our plugs with motorcycle riders, factory workers, machinery work, concert musicians and music lovers in mind. It isn't safe to completely eliminate noise, but it is essential to reduce the damage to ears and help isolate soundwaves and unwanted noises.
✅ 100% SATISFACTION GUARANTEED: Whether you use your ear plugs to study, in the workplace, in clubs and parties or simply to help you sleep by reducing snoring noises...each pair is backed by our 100% satisfaction guarantee. If you encounter any issues, please contact us for a Guaranteed Replacement or Your Money Back!
Brand: SoundWave
Legal Disclaimer: *DO NOT push earplugs into ear canal too far. Be sure that it is inserted comfortably and can be easily removed. *SoundWave earplugs are not designed for use with heavy machinery or firearms. *Earplugs are made with soft silicone and plastics which cannot be eaten. PLEASE KEEP AWAY FROM CHILDREN
Publisher: SoundWave
UPC: 722851185674
EAN: 0722851185674
Package Dimensions: 4.9 x 4.2 x 0.6 inches
Liquid error (sections/product-template line 203): Could not find asset snippets/spreadr-reviews.liquid