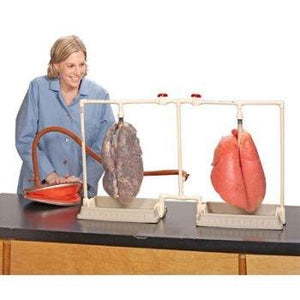 Dual Lungs Comparison Kit
Regular price $0.00 $365.01 Sale
Brand: Nasco
Features:
Authentic Nasco (Life/Form) product!
Quality Health and Nutrition aid
5 year warranty
Made in the United States
MPN: LS03802U
Publisher: Nasco
Details: Demonstrate both sets of lungs simultaneously for better lung comparison. The interconnected airway system lets you compare the ventilation of both sets of lungs simultaneously, or simply shut off one of the upper valves to inflate only one set of lungs. Kit includes an interconnected airway system with dual trays; air pump; one pair of reusable, normal inflatable swine lungs with guide; one pair of simulated smoker's lungs with guide; and one section of dried swine lung with a storage container.
UPC: 789164047679
EAN: 0789164047679
Liquid error (sections/product-template line 203): Could not find asset snippets/spreadr-reviews.liquid