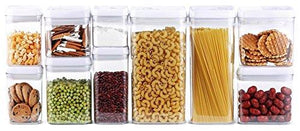 DRAGONN 10-Piece Airtight Food Storage Container Set, Pantry Organization and Storage Made Easy! - Keeps Food Fresh & Dry - Durable Plastic - Big Sizes included - BPA-Free
Regular price $99.99 $54.95 Sale
Brand: DRAGONN
Color: White
Features:
♻ BETTER RANGE OF SIZES - No more sets that only have a bunch of small containers! This Dragonn set has the perfect combination of big, medium, and small sizes. Square and rectangular shapes maximize space-efficiency!
♻ SECURE SEALING - Each canister features an airtight locking system resulting in a watertight and air tight seal. The container set is the perfect pantry organization and storage solution for keeping ingredients and food fresh, dry and completely sealed.
♻ EASY TO CLEAN, DISHWASHER SAFE - Simply remove the silicone attached along the lids of each container and wash with soap and rinse with water. Wrap the silicone around the lid again and seal back up to use again.
♻ STACKABLE LID DESIGN - This set contains 10 Food Storage Containers that are ideal for storing a variety of dry foods including flours, sugars, pasta, coffee, snack mix, nuts, candy and spices!
♻ PREMIUM QUALITY - Made of high quality, BPA-Free plastic. We only use the best materials!
Package Dimensions: 14.0 x 14.0 x 11.0 inches
Liquid error (sections/product-template line 203): Could not find asset snippets/spreadr-reviews.liquid