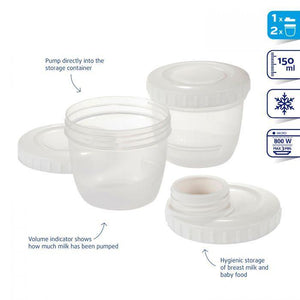 Difrax BtoB Breast Pump Connector inc Storage Cups
The Difrax Breast pump connector including breast milk storage container has been specially developed for breast milk to be expressed directly into the storage container. The ideal solution for expressing efficiently and hygienically and storing it in a safe manner. Usable in combination with the Difrax Breast pump.
Includes: 2 storage containters, 1 pump connecter screw.
The volume measurements clearly indicate the amount of expressed breast milk. The container can store up to 150 ml of breast milk. The easy grip, screw-on lid is leakproof. The date can be marked on the lid in pencil. Dishwasher safe and very durable. Specially developed for the award winning Difrax Breast pump.
Liquid error (sections/product-template line 203): Could not find asset snippets/spreadr-reviews.liquid