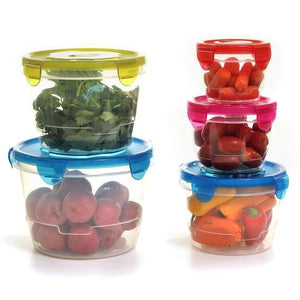 Diamond Home Food Storage Container 5 Piece Set - Round Style
Regular price $29.99 $17.99 Sale
Whether you have an open bag of chips, leftovers from dinner, or want to preserve your fruits and vegetables for longer periods of time, the 5-Piece Food Storage Container Set will meet your needs. These five containers allow you to store a variety of wet and dry food, as well as hot and cold leftovers to keep your kitchen organized and your food fresh.
Expertly crafted with sturdy plastic material, these containers will serve you well into the future. They're safe to use in the microwave and freezer so you can keep your food fresh and heat it up in the same container. Furthermore, the material is BPA free to ensure a safe eating experience every time.
To accommodate your various storage needs, this set includes five storage containers of different sizes – 3 liter, 1.89 liter, 1.16 liter, 640ml and 300ml. The different sizes allow for nesting storage, making it easy to stack and store in the cabinet when not being used. The containers also come in either a rectangle or round shape to complement your taste.
Each container includes its own leakproof locking lid. Latching with an airtight, silicone seal, this lid preserves the freshness and flavor of food, while also preventing messy spills. Additionally, each lid in furnished with a vented locking lid to permit air ventilation, ideal for when heating in the microwave and allowing food to cool off.
Sleek and stylish, the clear plastic containers will seamlessly fit into any decor and allow you to easily spot your leftovers or the lunch you packed for work. Each lid is furnished in a different color, making it easy to organize your food and adding a pop of color to brighten up any kitchen space.
Condition
New
Warranty:
30 Day Warranty
Features:
HIGH-QUALITY CONSTRUCTION. Made using durable, plastic construction for long-term strength, you can store and heat up your food for many years to come. The material is BPA free to provide a safe eating experience, as well as dishwasher safe for added convenience.
5-PIECE SET. To meet all of your needs, this set includes five storage containers of various sizes to store a variety of wet and dry food or hot and cold leftovers. Available in a rectangle or round shape, the different sizes make it easy to nest them all together and store away when not in use.
AIRTIGHT LOCKING LIDS. Each food storage container comes complete with its own airtight lid to lock in freshness while preventing spills. The lid fits perfectly to the container, locking in place to furnish an airtight seal for all of your food, and is outfitted with a vented locking lid to allow food to cool down.
EASY TO USE. Store all of your fruits, vegetables, snacks and leftover meals to prolong freshness. For optimal use, these reusable food containers are safe to use in the microwave and freezer. Just open the vent when you're ready to heat in the microwave to allow air ventilation, and enjoy your meal.
TRANSPARENT DESIGN. Sleek and easy to incorporate, the clear plastic construction allows you to easily locate items without opening up the containers.. Take your lunch to work, refrigerate or freeze leftovers for a future meal, or pack a picnic basket full of goodies on your next family outing. Different colored lids enhance the design while allowing you to easily organize items.
Packaging:
Retail
What you get:
Five [5] Piece Set - Diamond Home Food Storage Container - Round Style
Liquid error (sections/product-template line 203): Could not find asset snippets/spreadr-reviews.liquid