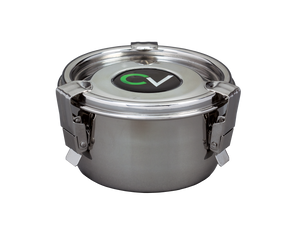 CVault Stainless Steel AirTight Metal Storage & Curing Container - 8cm (Small)
Regular price $25.95 Sale
CVault Stainless Steel Air-Tight Storage & Curing Container  8cm (Small)
We provide the ultimate curing and storage solution.
The CVault; an airtight, stainless steel curing and storage container, featuring the patented 62% 2-way humidity control pak by Boveda. The CVault is constructed of 18/10 food grade stainless steel; it is an airtight container that is impenetrable by light. Light-weight and durable; this is "the ultimate storage solution container".
Lid Design:
1/4 inch wide silicone seal to ensure an airtight seal.
Top of lid can be written on with a NON-PERMANENT marker and relabeled as vault contents change.
Pak holder specifically designed to hold your Boveda®.
Latch Design: Engineered to provide an airtight seal; locking in product freshness.
Stackable: Buy multiples for different varieties; containers are stackable.
Interior Diameter: 3.25" or 8 cm
Depth / Height : 1.75" or 4.4 cm
Ready To Go : Each small CVault comes with one (1) each 8 gram 62% Boveda®, place your product into the CVault and lock in freshness.
Stock # 5153
Liquid error (sections/product-template line 203): Could not find asset snippets/spreadr-reviews.liquid