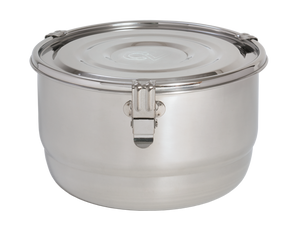 CVault Stainless Steel AirTight Metal Storage & Curing Container - 23cm (4L)
Regular price $67.95 Sale
CVault Stainless Steel Air-Tight Metal Storage and Curing Container 23cm (4L)
We provide the ultimate curing and storage solution.
The CVault; an airtight, stainless steel curing and storage container, featuring the patented 62% 2-way humidity control pak by Boveda. The CVault is constructed of 18/10 food grade stainless steel; it is an airtight container that is impenetrable by light. Light-weight and durable; this is "the ultimate storage solution container".
Commercial Lid Design:
¼ inch wide silicone seal to ensure an airtight seal.
Top of lid can be written on with a NON-PERMANENT marker and relabeled as vault contents change.
Pak holder specifically designed to hold your Boveda®.
Industrial Latch Design: Engineered to provide an airtight seal; locking in product freshness.
4 Liter Container at a Glance:
9" x 5.5" or 23 cm x 14 cm
Holding Capacity of 1/2 pound
Uses 1 Boveda 60 Gram Humidity Pack
Description
Another great freshness container thanks to CVault. This 4 Liter commercial size humidty retaining curing container will keep all your contents inside as fresh as the day it was pulled from the earth. From spices, to herbs, breads and tobacco, this is the ultimate humidor curing solution.
Fully Stackable : All Varieties of the CVault are Stackable.
Interior Diameter: 9.0" or 23 cm
Depth / Height: 5.5" or 14 cm
4 liter CVault comes with (1) each 60 gram 62% Boveda®.
Stock # 5157
Liquid error (sections/product-template line 203): Could not find asset snippets/spreadr-reviews.liquid