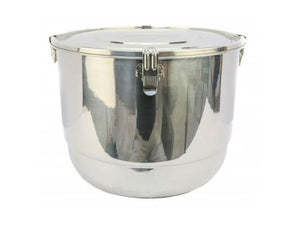 CVault Stainless Steel Air-Tight Metal Storage and Curing Container 33cm (21L)
Regular price $169.95 Sale
CVault Stainless Steel Air-Tight Metal Storage and Curing Container 33cm (21L)
We provide the ultimate curing and storage solution.
The CVault; an airtight, stainless steel curing and storage container, featuring the patented 62% 2-way humidity control pak by Boveda. The CVault is constructed of 18/10 food grade stainless steel; it is an airtight container that is impenetrable by light. Light-weight and durable; this is "the ultimate storage solution container".
21L
Description
When you need the largest commercial stainless steel curing container solution, the Mega CVault is where you'll find your answer. With enough space to hold up to 17 liters of your favorite product that you want to keep fresh and pliable. The Mega CVault offers this air tight food grade stainless steel curing container for whatever you need to keep your humidity within your items for food, plants, herbs, spices, breads and even tobacco. Just ask for the Mega, and we know you mean business.
Mega CVault Lid Design :
¼ inch wide silicone seal throughout to ensure an 99% airtight seal.
Label-enabled lid; with a NON-PERMANENT marker, re-label as needed as CVault contents change.
Humidity Packs holder specifically designed for your Boveda/Humidipak ® packs.
Industrial Patented Latch Design : Engineered exclusively to provide an airtight seal all the time, locking in product freshness.
Space Saving Stackable Solution: Whatever the size, containers are stackable and stable.
Interior Diameter: 13.5" or 33.0 cm
Depth / Height: 10.5" or 26 cm
Total Volume: 21 liters
Capacity: 2 lbs.
Mega CVault comes with (1) each 320 gram 62% Boveda®
Stock # 27711
Liquid error (sections/product-template line 203): Could not find asset snippets/spreadr-reviews.liquid