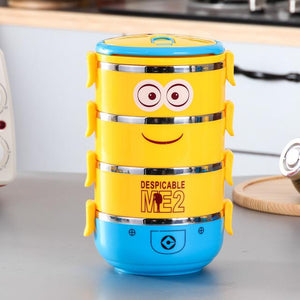 Cute Minion Despicable Me Cartoon Bento Lunch Box
Regular price $101.00 $55.00 Sale
Cute Minion Despicable Me Cartoon Bento Lunch Box 
Kids bento box with plastic handle, bento boxes. Thermal stainless steel dinnerware set. Food storage containers. 
Feature: 
1.Stainless steel and the PP material. Healthy and safety.Easy to clean. 
2.The large capacity and hierarchical Bento Lunch box. Meets the capacity requirements of daily use. 
3.According to your like, can split and combine the layers. 
4.Lunch Box With Compartments. Can store different food, fruit and avoid tainting between food. 
5.The lid has sealing ring. The first layer is sealed. Other layers are not sealed. 
Capacity: one layer: 700ML ; two layer: 1400ml ; three layer: 2100ml; four layer: 2800ml 
Holding Time: Lunch Box = About 3 Hours 
Feature: Eco-Friendly, Thermal Insulation 
Material: Stainless Steel 
Shape: Round 
lunch box style: cartoon 
other name: bento box 
suit for: lunch box for kids 
food container: lunchbox   
Liquid error (sections/product-template line 203): Could not find asset snippets/spreadr-reviews.liquid