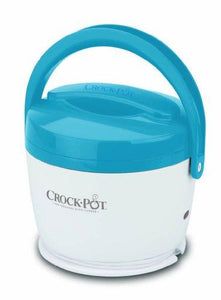 Crock-Pot Lunch Crock Food Warmer, White/Blue
Regular price $24.99 Sale
About this Item: 
_________________________
Features a removable food vessel
Bring flavorful meals to work
Lunch is Ready on Your Schedule
Desktop dining is looking up! The Crock-Pot Lunch Crock Food Warmer is a lunch tote and food warmer in one that warms while you work for delicious on-the-go meals that are ready when and where you are. Food can now be as warm, comforting and flavorful as home cooking with this handy appliance that heats low and slow to transform leftovers, soups, oatmeal and any number of favorites into amazing meals away from home.
Features and Benefits
Superior portability features include an outer lid, cool-touch exterior, easy-carry handle and cord storage. Its 20-ounce capacity is perfect for a personal, portion-sized meal. Cleaning is simple with the removable, dishwasher-safe food storage container and lid. For added convenience, leave the warming base at your destination and use the removable food container with lid to transport food to and from your home. The Lunch Crock is also great for use in a dorm room, to warm party dips at any gathering and to re-heat small meals at home.
Three Steps to a Delicious Lunch
With its travel-friendly design, the convenient and easy to use Lunch Crock allows you to take a variety of food on-the-go for a tasty lunch. Simply fill the Lunch Crock, take it with you when you head off to work and plug it in to warm your meal on your schedule.
Fill with delicious soups, stews and more
Take the Lunch Crock on-the-go
Warm your meal while at work
_________________________
Package Includes:
_________________________
_________________________
Liquid error (sections/product-template line 203): Could not find asset snippets/spreadr-reviews.liquid