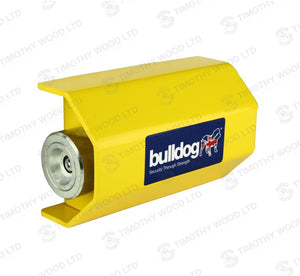 Bulldog GR250 High Security Door Lock
Regular price $95.38 Sale
Bulldog Security GR250 High Security Door Lock for Garage Doors, Gates & Storage Containers - Yellow
This high security garage and workshop door lock is 100% British made heavy duty door lock is just the job for securing your doors, it has numerous uses, double doors, sliding doors, heavy gate, containers etc to name just a few.
Once both halves have been securely fitted to each door using the reinforcing back plates and fasteners supplied, simply slide the lock bolt through the tube and turn the key to lock it in place.
The lock bolt itself has a 25mm diameter shaft and is case hardened to resist hacksaw and drill attacks and unlike padlocks cannot be bolt cropped. It has a 10 pin radial pin tumbler lock which has over 1000,000 combinations and a hardened centre pin to thwart any attempts to drill it.
Finished in bright yellow polyester powder coating the GR250 is highly visible and will deter the most determined thief.
Bulldog GR250 High Security Door Lock Features:
3mm cover with 5mm mounting brackets

25mm diameter locking bolt with drill and pick resistant lock

Left or right handed fitting

4 M8 x 75 coach fixings

Supplied with 2 keys

Dimensions: 140mm x 82mm x 58mm

Weight: 1.86kg
Liquid error (sections/product-template line 203): Could not find asset snippets/spreadr-reviews.liquid