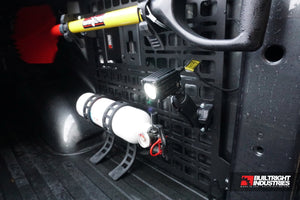 BuiltRight Industries Bed Light Wiring Kit - 2015-2019 Ford F150 & Raptor
Regular price $25.00 Sale
BuiltRight Industries Bed Light Wiring Kit Rack - 2015+ Ford F-150/Raptor
The BuiltRight Industries Bed Light Wiring adapter allows owners that use bed accessories (Bedside Racks, storage containers, etc) or need exterior work lighting to wire in any popular LED light.
One end of the adapter harness has an OEM male connector crimped on. This end interfaces with your factory wiring harness.
The opposite end can be purchased with either bare wires (heat shrink butt connectors included) or with a popular Deutsch connector, for compatibility with many aftermarket lighting options.
Each harness is finished with protective loom and heat shrink at each end. End-to-end length is 36".
Liquid error (sections/product-template line 203): Could not find asset snippets/spreadr-reviews.liquid