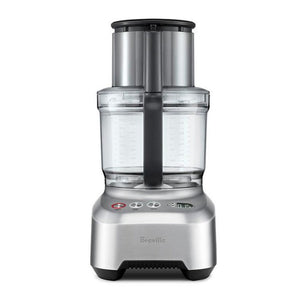 Breville - The Sous Chef 16 Peel & Dice
Regular price $699.99 $699.99 Sale
Info: Food Processor with Brushed Aluminum Finish
S&H included in Canada. You want the best for yourself and your family, so when you make fresh healthy meals for them, you're making them the best way possible. Here it is: The Sous Chef 16 Peel & Dice is the absolute top of the line food processor out there. This gorgeous machine does everything short of doing your taxes for you: including peeling and dicing.
Product Notes:
This premium food processor comes with 10 different types of cutting discs or blades, which are detailed below, as well as 2 different bowl sizes (the largest one being 16 cups!) and an assortment of other accessories which can be neatly stored in the accompanying container. The food chute is 5.5 inches wide, letting you process all sizes of things including large tubers like sweet potatoes. The motor peaks at 1200 watts, a staggering amount of force that will process even the toughest vegetables in seconds.
Like its predecessor the , this sophisticated kitchen appliance enables a wide variety of healthy food preparation tasks, and now adds two more important functions to its repertoire to speed up production time and reduce the number of tools or appliances you'll need to bring into play or wash up or after. [Please note, this video mentions 8 mm and 16 mm dicing kits which do not come standard with this unit (which comes with a 12 mm dicing kit), but as optional accessories.]
What's Included in the Box:
This table summarizes the main cutting or mixing tools this unit comes with (not including the various spindles, cleaning tools, food pushers, and spatula which come with it, as well). For photographs of most of these items and of the bowls it comes with, please see the page for the related item, The Sous Chef 16 Pro Food Processor.
| Description | Diagram |
| --- | --- |
| Dough blade: This is a blunt blade designed for the softer action of combining dough ingredients, rather than for cutting. | |
| Mini processing blade: Use this blade for preparing small quantities with the 2.5 cup mini bowl for chopping, mixing and blending a variety of ingredients. | |
| Micro-serrated S-Blade: Swift action for chopping, mixing, and blending a variety of ingredients. | |
| S-Blade safety cover: to enable you to move the S- Blade in and out of the storage container until you're ready to use it without nicking your fingers. | |
| Whisk/Emulsifying disc: Use this attachment for whisking eggs and cream. | |
| Variable / Adjustable Slicer: This disc has 24 settings you can choose from for slicing ingredients all the way from paper thin 0.3mm up to a thick and substantial 8.0mm. | |
| French fries cutter: Use this disc for cutting vegetables to make french fries. | |
| Julienne disc: Use this disc for making julienne strips of vegetables like carrots. | |
| Reversible shredder: Use one side for small/thin shredding and the other side for coarse shredding. | |
| Peeler disc: Peels potatoes and other types of round, firm produce like beetroot and even carrots. It can peel up to 7 potatoes at a time. | |
| Dicing disc: This blade is for dicing 12mm cubes: the first of a two-step process to slice and then dice your foods to ensure even and precise cubes. | |
| Dicing grid: This grid gets set up right after the dicing blade, to make even 12mm cubes to achieve consistent tastes and textures. | |
Product Specifications:
Model Number: BFP820 BAL
Dimensions: 11" x 8" x 18".
Construction Materials: Die- cast Metal Base. Ultra Durable BPA-Free Tritan Bowl. Stainless Steel Blades.
Bowl Capacity: 16 Cup (large bowl) & 2.5 Cup (small bowl).
Power: 1200 Watt Induction Motor; operates on 110-120 Volts.
Operational Settings: On/Off, Pause and Pulse.
LED Display: Timer counts up and down.
Feed Chute Safety System: Prevents the motor from operating unless the bowl, lid and large food pusher are correctly locked in position.
Warranty: 1 Year Limited Product Warranty and 25 Year Induction Motor Warranty.
Download the [PDF].
Warnings:
Due to its dry, fibrous texture, dicing sweet potato is not recommended with the Dicing Kit. Sweet Potato places high load on the Dicing Kit which causes high friction and potential damage to the Bowl Lid.
Liquid error (sections/product-template line 203): Could not find asset snippets/spreadr-reviews.liquid