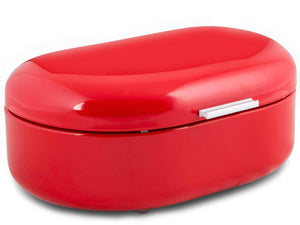 Bread Box Red, Carbon Steel, Large Capacity - Sturdy Metal Food Storage Containers and Bread Boxes for Kitchen Counters - Retro Countertop Breadbox for loaves | 15.7 x 10.8 x 7 inches
Regular price $43.70 $30.99 Sale
Brand: Tempteva
Color: Red
Features:
THE PERFECT ADDITION TO YOUR KITCHEN : Add a splash of color and style to your home or office with the Tempteva multi-loaf bread bin. Each storage container promises top-of-the-line ingenuity to keep your starches tasting fresh and moist while also providing fun and unique aesthetics to your countertop or dining room table . This decorative kitchen accessory effectively helps optimize and declutter counter space.
LONG-LASTING FRESHNESS : Each bread container features a weighted non-airtight metal lid. Ventilation holes allow optimal air circulation that prevents build up of moisture or drying out your bread loaves. This will maintain your bread's soft texture yet allow crusts to stay crisp. This food storage box can also safeguard your crackers, bagels, biscuits, cookies, and other carbs from going stale.
BOLD, CHIC DESIGN : The unique rounded design, sleek curves, and stunning cherry-red color of our vintage bread box provides a contemporary point of interest in your kitchen decor. The metal is powder coated for added shine and the robust, rounded lid creates a one-of-a-kind aesthetic while giving you plenty of storage space. This multipurpose bread bin seamlessly blends into the landscape of any interior decor including farmhouse, modern, provincial, retro or bohemian .
FOOD-GRADE QUALITY: Our durable storage boxes for bread and crackers are comprised of high-quality strong carbon steel and also FDA-approved for storing food. Each container comes equipped with non-slip feet and a lid that stays open when in use. It even comes with a risk-free 3 months 100% SATISFACTION GUARANTEE.
A GREAT GIFT SET: If you are looking for a fun and unique gift for that special someone, the Tempteva stay-fresh bread holder makes a great present. Suited to both men and women, young and old, couples or families - the Tempteva bread preserver is perfect for a wedding, birthday, engagement, anniversary, graduation or housewarming party. It comes packaged in an attractive colorful box for added style and protection.
Publisher: Tempteva
Details: KEEP YOUR BAKERY PRODUCTS FRESH FOR LONGER
Keep your bread, crackers, biscuits, and muffins fresh with the Tempteva Metal Bread Box Boasting a unique, rounded shape that exudes ergonomic beauty and style. The non-airtight lid ensures your dry foods will keep from getting stale while the ventilation holes promote optimal airflow preventing moisture buildup. These stylish bread boxes guarantee long-lasting freshness and taste.
UNIQUE DESIGN FOR PREMIUM FUNCTIONALITY
Our countertop bread boxes are fashioned in cherry red to add color to your kitchen and are comprised of FDA-approved, food-grade carbon steel.
-Non-slip feet elevates the bread bin and protects the countertop
-Open the lid in a single hand movement, perfect for busy moments
-Thick and strong carbon steel construction guarantees lasting usability for years to come
DECLUTTER YOUR COUNTERTOP
These containers promise a large-capacity to accomodate an assortment of carbohydrates and starches and are engineered to lock out moisture and humidity. No more messy countertop!
THE PERFECT GIFT
Our bread loaf boxes make the perfect gift set for special occasions like weddings, graduations, birthdays, engagements, and housewarmings or Father's Day, Mother's Day or Christmas.
100% SATISFACTION GUARANTEE
If you're not absolutely blown away by the unique design and performance, simply contact us and we'll offer you a prompt and full refund. That's the Tempteva promise of excellence to you.
MULTIPURPOSE
Instead of storing your carbs, why not use one to store stationery in the office, other kitchen goods like tea bags or coffee capsules, jewelry, bathroom products or household knick-knacks.
CARE INSTRUCTIONS
Easy to clean. Wash by hand with household dish soap and water and dry thoroughly. Please note that these bread boxes are not dishwasher-safe.
EAN: 9369998035120
Package Dimensions: 16.1 x 10.9 x 7.4 inches
Liquid error (sections/product-template line 203): Could not find asset snippets/spreadr-reviews.liquid