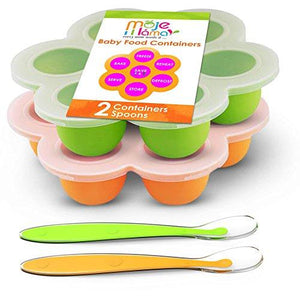 Best Homemade Baby Food Storage Container Freezer Trays - Reusable Food Container Silicon Tray With Clip On Lid - 2 Pack Bundle With 2 Bonus Spoons - BPA Free FDA Approved 2.6 Ounce - Green & Orange
Regular price $21.95 $21.95 Sale
Brand: Best Healthy Homemade Food Storage Container
Color: Green & Orange
Features:
➤ PROVEN BEST DESIGN BABY FOOD STORAGE CONTAINERS ➜ NO SPILL CLIP-ON LID FOR LONGER LASTING ODOR FREE BABY FOOD - Moje Mama has a solution for baby's healthy feeding with smartly designed silicone baby food storage container trays with clip on tight spill free lid for freezing your homemade baby food & juices without freezer burns. Its made from flexible silicon material, pops right out from container store in zip lock bags as needed
➤ PREMIUM QUALITY DURABLE CHEMICAL FREE ➜ HEALTHY BABY FOOD STORAGE CONTAINER - Moje Mama homemade baby food storage containers wont chip crack and remains odorless. Our baby food containers are made from best quality FDA approved BPA Free bacteria lead chemical PHTHALATE Free silicone. These food freezer trays are vital in development years preventing health related issues. Our freezer tray storage containers are choice to keep
➤ MOJE MAMA REUSABLE BABY FOOD STORAGE CONTAINERS FITS ALL OF YOUR BABY FEEDING NEEDS ➜ Moje Mama baby food storage containers perfect for all your feeding needs. You can store breastmilk, baby food, puree, snacks, bake cup cakes or serve snacks condiments or even use it as ice cubes tray and also freeze herbs. No need to buy cheap commercial boxed baby foods use home made healthily organic food keep them fresh for caring mothers
➤ BEST UNBEATABLE BUNDLE 14 LARGE CUPS (2.6 Oz) ➜ SET OF 2 ORANGE & GREEN CONTAINERS WITH 2 SILICONE SPOONS - Moje Mama top brand in business for 2 years provides baby food storage container as an unbeatable choice on Amazon. Its perfect for start up or solid baby food, serving, storing baby foods from puree to frozen cubes saving time
➤ TRY OUR REUSABLE BABY FOOD CONTAINER RISK FREE - We stand behind our quality baby food storage container trays keeping you a happy parent. It will give best results every time or money back.
Publisher: Best Healthy Homemade Food Storage Container
Details:
Moje Mama Is Better Quality & Cheaper Than The Top Seller Reusable Kids or Baby Food Container Trays Available On Amazon Marketplace
Moje Mama Is For You & Your Baby - Top Brand Baby Feeding and Weaning Pot
Top 5 Reasons To Buy Moje Mama Baby Food Containers
Click on "Add to Cart" button NOW and enjoy Moje Mama stored healthy baby foods everyday!
➤ 7 Portions Silicone Baby Food Storage➜ 7 portion silicone homemade baby food storage container freezer trays with best design made from silicone material naturally bacteria free, lead free, heat resistant & guaranteed PHTHALATE free as the best healthy choice also useable as juice freezer trays, storage containers, freezer tray for juice, freezer tray with lid, silicon ice cube tray with lid, baby food tray silicone, food freezer storage, ice ball mold makes & cooking food molds
➤ Top Quality Design & High End Manufacturing➜ Top quality silicone baby food freezer tray or baby food freezer comes with safe clip on lid making it spill & odor free also better than baby food freezer storage bags. Comes in 2 colors (orange & green) along with 2 bonus spoons Free gift
➤ Easy To Clean Dishwasher & Oven Safe➜ Perfect for storing baby foods easy to use, dishwasher safe, non stick food storage trays works like a charm food cube comes right out not only store baby food but also good for baking serving cup cakes even works best for all you other kitchen needs
➤ 2 Pack Unbeatbale Bundle Saving $35➜ We know you'll like it, that's why instead of 1 unlike ALL our competition we have included 2 baby food storage container freezer trays & to make it even sweeter added 2 silicone spoons for your use
➤ Try Risk Free With 100% Satisfaction Guarantee➜ Buy Moje Mama baby food storage container freezer trays with "Peace Of Mind", if not fully satisfied get a full refund hassle FREE
Every Mother Wants It!
UPC: 731236561620
EAN: 0731236561620
Package Dimensions: 8.3 x 7.8 x 4.2 inches
Liquid error (sections/product-template line 203): Could not find asset snippets/spreadr-reviews.liquid