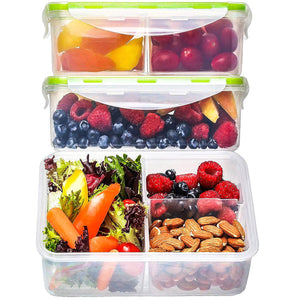 Bento Box Food Containers (3 Pack, 1150 Ml) - Storage with...
Regular price $500.00 Sale
Bento Box Food Containers (3 Pack, 1150 Ml) - Food Storage Containers with Lids, 3 Compartment Lunch Box Bento Boxes for Adults, Bento Lunch Box for Kids, BPA FREE, Microwave Safe, Leak-proof
---
Product Details
Brand: FIT Strong & Healthy
Model Number: MealPrepContainer3
Colour: Transparent
Item Weight: 499 g
Product Dimensions: 20.3 x 12.7 x 19 cm
Material: Plastic
Shipping Weight: 726 g
✅ PACK YOUR HOMEMADE, HEALTHY LUNCH ON THE GO: Tired of spending tons of money on pre-cooked meals and restaurants? Pack healthy, homemade meals in this stackable rectangle, eco-friendly BENTO BOX LUNCH BOX, perfect for taking your MEALS and SNACKS to work, school, or on your business travels.
✅ WHAT YOU GET: You will receive 3 (Three) FOOD STORAGE CONTAINERS WITH LIDS that have an airtight, watertight seal between a container and a lid. Each Food Container capacity is 1150 ML. Dimensions: 20.3 x 13.3 x 6.8 cm. Use these bento box containers in the kitchen, on the go, at the office or simply for storage.
✅ KEEP YOUR PORTIONS UNDER CONTROL: These Plastic BENTO BOX LUNCH Containers for adults and kids have three CONFIGURABLE and REMOVABLE compartments. This allows you to keep your ingredients separate and mix them right before mealtime. THOUGHTFULLY DESIGNED to help keep your portions under control, these portion control containers are essential for healthy meal planning and preparation.
✅ MICROWAVE, FREEZER, and DISHWASHER SAFE: These plastic food containers are made of DURABLE, HIGH-QUALITY ANTIBACTERIAL and 100% BPA free, PP material and are dishwasher (top rack), microwave (without lid), and freezer safe. These food storage containers can tolerate a broad range of temperature from -20℃ to 120℃. With an absolutely LEAKPROOF and AIRTIGHT lid closure design, it's the ideal blend of functionality and style.
Liquid error (sections/product-template line 203): Could not find asset snippets/spreadr-reviews.liquid