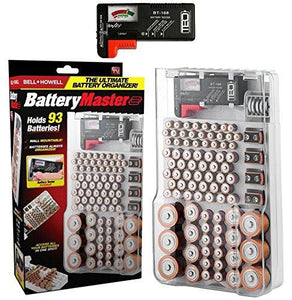 Bell + Howell BATTERY MASTER, Tester/Checker, Storage, Organizer, Holder As Seen On TV (Original)
Regular price $29.92 $39.95 Sale
Perfectly-sized placement without being too tight or snug to hold batteries securely but still easy to pull out.
Modern design compliments well with indoor, home, or garage-mounting.
Lid utilizes shatter-resistant, transparent acrylic for visibility!
Battery master is constructed from high-grade materials that do not warp over time like the majority of plastic storage containers out in the market today!
Size: 7w x 12L x 2.5H; holds batteries (AAA, AA, 9-volts, D-type, C-type, flat batteries)
Liquid error (sections/product-template line 203): Could not find asset snippets/spreadr-reviews.liquid