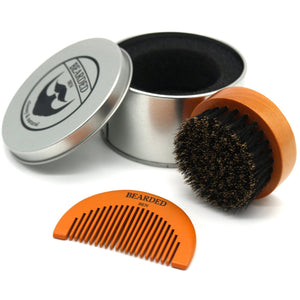 BEARDED BEN Beard Brush with 100% Natural Boar bristles, Perfectly Grooms...
Regular price $25.11 Sale
BEARDED BEN Beard Brush with 100% Natural Boar bristles, Perfectly Grooms and Massages, eases Itchy Flaky Beards | Beard Comb, Grooming Set
---
Product Details
Product Dimensions: 9 x 9 x 6 cm ; 68 g
Manufacturer: eSpring GmbH
Shipping Weight: 109 g
Item model number: .
✪ TOP BRAND QUALITY: For our BEARDED BEN beard brush we only use 100% genuine, high-quality wild boar's bristles- the best for beard care with their soft but firm texture. Absolute attention to detail has be given, from its handy lacquered lotus wooden handle to the clever metal storage container all to provide a durable and robust beard styling set with a sleek and classic design
✪ PERFECT FACIAL SKIN CARE: Thanks to the authentic boar bristles, which can tidy up even the largest of chaos, ensuring even the toughest of tangles disappear. They firmly remove dead skin particles, exfoliate and revitalize facial skin while simultaneously stimulating hair growth for a fuller, well-groomed and styled beard
✪ MASCULINITY & STATUS SYMBOL: Beards are back in trend and for a stylish well groomed beard it is essential to chose the right products. The BEARDED BEN beard brush is the perfect partner with butter, balsams and oils to keep beards tidy and manageable. It is the perfect gift be it birthday, Christmas or Fathers day, for every handsome beard bearer or anyone trying to grow the beard
✪ CARE ON THE GO: Thanks to BEARDED BEN´s innovative design it fits perfectly in the palm of your hand and the attractive travel tin allows for perfect styling and care on the go. The BEARDED BEN is always there allowing for combing and maintenance where ever you travel
✪ CLASSY & NATURAL: That's BEARDED BEN!: Whether it's a full beard, moustache, schnauzer, chin beard or casual three-day beard: BEARDED BEN supports all beard wearers with its products and completes the care in perfection.
✪ Beards are back in fashion ✪
The ever trending symbol of masculinity, the beard, is back- but not in the form of an unmanaged, untidy wild beard but as a perfectly styled statement. For beard wearers the following are absolute no goes:

✪ Highlights ✪
- Trusted Brand Quality: High-quality natural boar bristles, careful workmanship and a varnished wooden handle all attribute to BEARDED BEN´s attention to detail and proven quality
- 100% Genuine Wild Boar Hair Bristles: The beard brush combs out tangles, eases and loosens dead skin and flakes quickly and gently
- Skincare and Beard Growth: The natural wild boar bristles massage and revitalize the facial skin and stimulate hair growth for a fuller thicker beard
- Handy Size: with a diameter of 5 cm the beard brush fits optimally in the hand & can be easily transported - the perfect travel companion
- Perfect Gift: The beard brush is delivered in a stylish metal tin and makes the perfect present or stocking filler for any beard lover or wanna-be


✪ Bearded Ben - Unique care for cool guys ✪
BEARDED BEN is a young brand for real guys that specialises in the development of unusual products for beard wearers. In addition to functionality and design, the products also pay attention to the sense of life. For the love of the beard - for a classic lifestyle!
Liquid error (sections/product-template line 203): Could not find asset snippets/spreadr-reviews.liquid