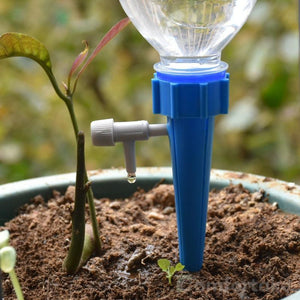 Automatic Watering Houseplant
Regular price $29.99 $7.98 Sale
Watering Plants Automatically while on Vacation ~
Prevent the shortage of water or overwatering during vacation. 
How to use
Insert the valve controller into the plant waterer, drill some holes in the bottom of the suitable bottle or cut the tail of the bottle, and add some water to the bottle, put into the waterer spike.
Flip over the bottle and insert the watering spikes into the soil.
Switch the valve until the correct flow of water.
You can also add water-soluble fertilizer to the water storage container and proportionally water to help the plant absorb nutrients more quickly and efficiently.
At the same time reduce the troubles of fertilization.
 Product Features
Adjustable valve

: The flow rate can be controlled. The plant watering Device with control valve can control the dripping speed of 0-60s/drip, and the sustained release drip lasts for

 1-15 days.

 Only adjust the valve to Meet your needs without complicated setup steps. Save time and water.

Simple and convenient

: No tools are required for installation, just drill some holes in the bottom of the bottle or cut the tail of the bottle to keep the air flowing. Accurate water volume, provide different amounts of water for different plants and flowers, each plant is unique.

Widely Compatible

: Suitable for brand bottles - Dr. Pepper bottle, Pepsi bottle, Coca-Cola bottle, Lipton bottle, Diet Coke bottle, Aquafina bottle or other 1. 1-inch inner diameter bottles. (Bottle not included)
More healthy plants Enjoy your holiday with your family, 

leave your plants to me

, self water your plants and vegetables, and make your plants thrive;

Recycle plastic bottles effectively

: 

Made of material ABS plastic, it can be reused for 30 years. Reduce waste and protect the environment.
 Specification
Size: 13x3 cm/5. 1*1. 1
inchBottle size: 1. 1
inchMaximum water capacity: 2
LitersColor: Blue, Green
Suit for: Plant, flowers, vegetables and so on
550ml water supply time about: 1~5 days2000ml water supply time about: 7~15 days
 Package include
Liquid error (sections/product-template line 203): Could not find asset snippets/spreadr-reviews.liquid